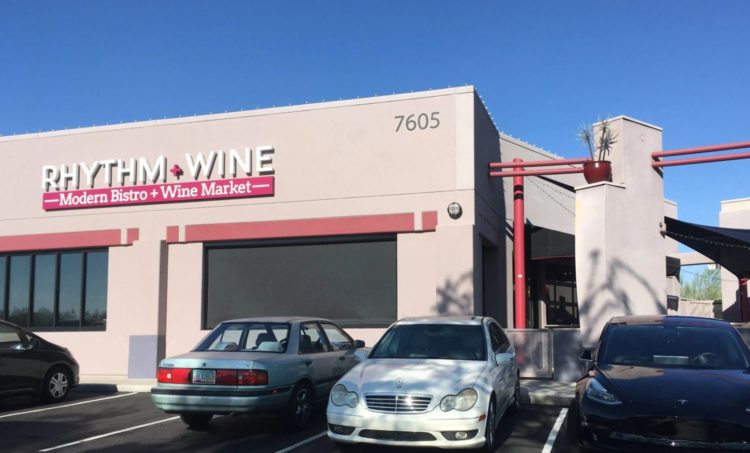 When I first moved out to Arizona six years ago, I was a struggling undergraduate searching for a job to pay the bills. Laura and Terry Craig gave me a shot and hired me at the Mexican restaurant they owned, Jalapeno Inferno, at Pinnacle Peak.
Now, as I begin my new career as an editor and writer for AZFoothills Magazine, it gives me such joy to feature their other restaurant concept, Rhythm + Wine Modern Bistro.
Located on Pinnacle Peak Road in North Scottsdale, Rhythm + Wine's foundations are simple, "people with passion, food with soul, and wine with everything!" After 2020, I'm sure we can all relate to a few glasses of wine (or a bottle) with every meal.
Inside the restaurant, you'll find traditional seating along with a cozy lounge, rock-n-roll inspired artwork, and one-of-a-kind photography. The outdoor bar and patio offer an intimate al-fresco dining experience and is the perfect setting for private events, wine dinners, and live music.
Everything on the menu is sourced locally and offers a unique and refined twist on classic comfort food cuisine.
To start, engrained in the name, the wine menu is continuously rotating to feature Arizona and California wineries. The staff is exceptionally knowledgeable on appropriate pairings for their dishes. Plus, if you find a bottle you love, join their wine club, so you can purchase your favorite bottles and enjoy them at home.
If wine is not your thing, don't worry, Rhythm + Wine offers unique craft cocktails or, as they call them, "rocktails."
The Scottsdale Mule (green chili vodka, spicy ginger beer, fresh lime juice, served in a traditional copper mug, cilantro garnish) was SO good if you like a little bit of spice in a cocktail. If your palate leans more towards sweet and sour flavors, try the strawberry-basil mule (vodka, spicy ginger beer, fresh strawberry muddled with sweet basil) served in the traditional copper mug.
Another standout "rocktail" is the champagne cosmo! I am very comfortable with my masculinity and have no problems sipping on a cosmo. The champagne cosmo was so different. I didn't even know a combination of the two would taste okay, but the fresh lime juice, cranberry juice, vodka, triple sec, sparkling wine, pomegranate seed garnish all shaken together was just fabulous.
Now, let's focus on the food! When I was younger, my mom would always get a bag of Ruffles and make some french onion dip for all my birthday parties. Granted, it consisted of onion powder and sour cream; as a kid, I considered the dip a Michelin chef concoction.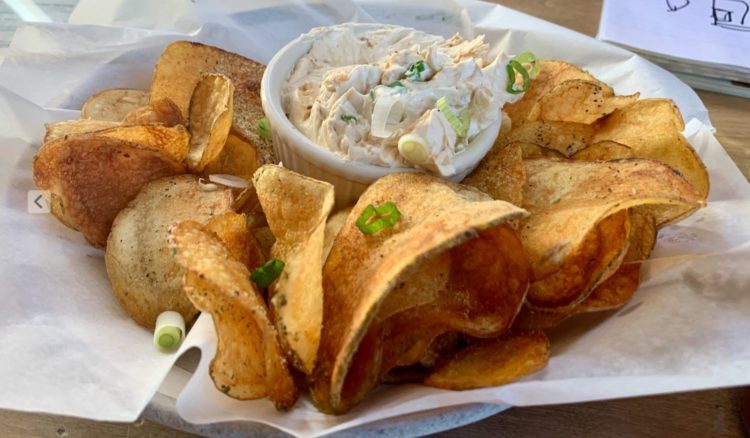 When I saw Rhythm + Wine's "hippie chips," I nearly died and just had to order it! The homemade potato chips and french onion dip were so nostalgic, and I will never view my mother's version the same way again. Be careful, though; I almost took down an entire basket to myself. They are dangerous!
The sushi-grade ahi poke with their housemade wasabi cream was also so delicious. For being in the middle of a desert, the ahi tuna was super fresh and a great way to start the meal on a lighter note.
Rhythm + Wine also has homemade meatballs as an appetizer option. The San Marzano tomato sauce is to die for, and the meatballs are perfect for sharing. Again, the menu is all about turning classic comfort foods into gourmet and delicious, made-to-order dishes.
Make sure you don't get too full on those appetizers because the main dishes are what shine at Rhythm + Wine.
The flatbread-style "spicy red" pizza with meatball, ricotta, mozzarella, and candied Fresno jalapeno peppers is excellent for all my spicy food fans.
But, the chicken pot pie is what sold me and is why I will be back again! How they managed to make such a classic dish into something new and exciting is beyond me, but the puff pastry crust was just insane. I always loved chicken pot pie but hate the heavy and thick crust that most restaurants serve it in.
For me, I want to get to all the good stuff inside chicken pot pie and not be bogged down by heavy bland crusts. Rhythm + Wine's puff pastry creation and spin on the traditional crust are fun and delicious. Just crack open the top and get to scooping!
One of the most popular dishes at Rhythm + Wine is the short rib. While at the restaurant, I must have heard at least five people order the plate in half an hour. I barely had any room left in my stomach, but I had to try it.
The red wine braised short rib topped with a parsnip puree and red wine demiglace melt in your mouth. You don't even need a knife! It is so simple yet so well put together that I now understand why I heard so many guests order it off the menu.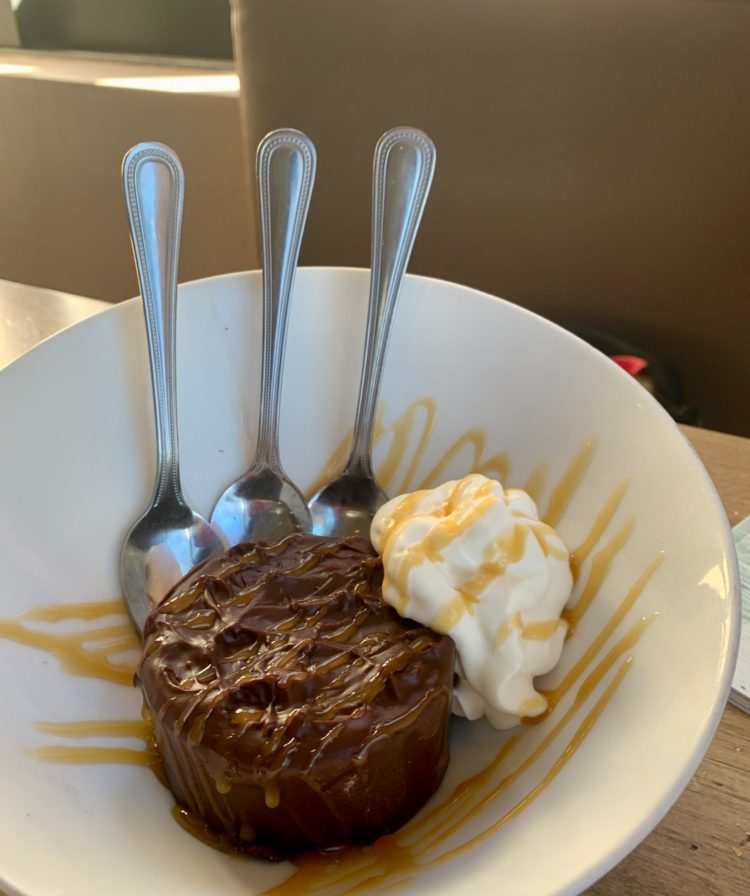 If you aren't being rolled out of the restaurant in a wheelchair because you're so full of dinner and appetizers, end the meal with the chocolate peanut butter bomb. The only way I can describe the dessert is like Reese's cups but on steroids. I went into a food coma for a few hours afterward, but it was so worth it.
I want to thank Laura Craig for having me at Rhythm + Wine. Since COVID-19 has no end in sight, it is crucial to support local and family-owned restaurants like Rhythm + Wine.
The classic yet refined cuisine was out of this world. For individuals who think "American" cuisine means burgers and hotdogs. Head over to Rhythm + Wine Modern Bistro for nostalgic homemade dishes with a unique twist.
For more information on Rhythm + Wine Modern Bistro or to make a reservation, please visit: https://www.rhythmandwine.com/