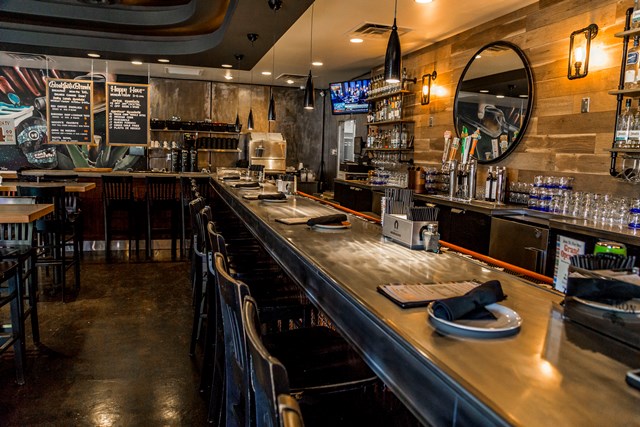 The long-loved Macayo's Mexican Restaurants has opened its newest location, Woody's Macayo, in Midtown Phoenix, which was inspired by the original Central Macayo. A bit smaller and more modern than the other Macayo's location throughout the Valley, the focal points of the new restaurant are a sleek bar area and a beautiful, hand-painted mural named La Marea (meaning "The Tide"), by local artists Lucinda Yrene (a k a La Morena) and Mata Ruda.
Though you will find a few Macayo favorites (like the Original Chimichanga) on the Woody's menu, the new spot features a fresh lineup of salads, tortas, burgers and a Platos Especiales section that cater tot he Midtown crown. Plus, thirsty guests will also adore the Build Your Own Margarita option. During a recent lunchtime visit, we sampled the delicious and colorful Tijuana Caesar salad, with kale and romaine, queso fresco and Tijuana Caesar dressing, with the standout being the large, crisp housemade croutons.


For a heartier option, the shredded chicken flautas are crispy on the exterior with warm, flavorful chicken at the core (the flautas are topped with shredded cabbage, pico de gallo, sour cream and guacamole). The short rib tacos are another satisfying option; the tender, melt-in-your-mouth meat is simply topped with chopped onion and cilantro, letting the flavors of the short ribs shine. On the side, we couldn't get enough of the slightly spicy, slightly sweet Mexican corn, which is served off the cob.
A can't-miss dish at Woody's is its perfectly portioned mason jar margarita cheesecake. A delicate graham crust is topped with a creamy traditional cheesecake, tangy lemon curd and a dollop of whipped cream for a light, refreshing finish.