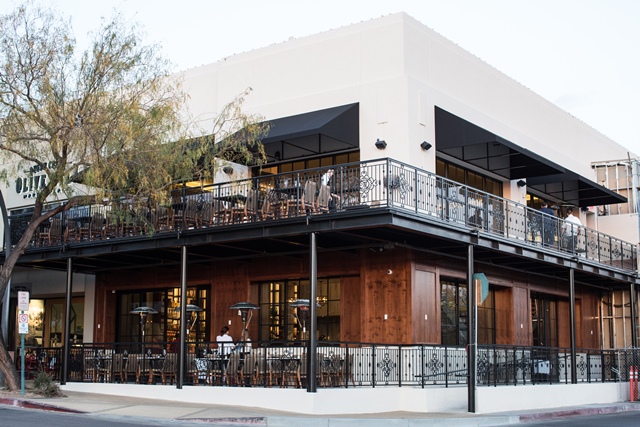 It's a happy day when one of your favorite restaurants opens a new location. Such was the case when The Mission opened its doors at Kierland Commons in Scottsdale. For years, The Mission has been a beloved staple in Old Town (and still is), with a fab patio, a romantic, intimate dining room and incredible Latin-inspired fare. Much of what's to love about the Old Town restaurant can be found at the new Kierland Commons outpost, but with some pretty stellar new additions.
Upon walking up to the new Mission, the first thing guests will spy are two incredible patios, one upstairs (an addition to the building) and one downstairs. Before the temps get too warm, we urge you to at least enjoy some guacamole and a cocktail from the second-story patio. Inside, the restaurant has beautiful touches that may homage to the church, with a giant, back-lit cross at the bar, gorgeous ironwork and even an old pulpit that was found on ebay serves as the hostess stand. Plus, fans will notice the Himalayan salt bricks glowing on the risers of the stairs and surrounding the exterior of the elevator shaft–a tribute to the Old Town location. Beautiful tufted green-leather booths and chandeliers fill the space. Upstairs, guests are greeted with second bar and more seating (some of which is decked in a lovely floral pattern) in a space that will likely be used for private events.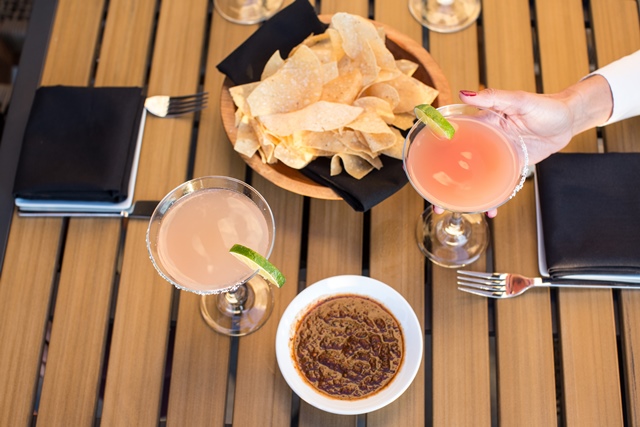 Fans of The Mission will be delighted to know that both restaurants have the same menu, though Chef Matt Carter may use the ample kitchen space up north to dole out some new dishes like ceviche in the future. To start, cocktails are in order as The Mission is one of the top sip-slingers in the Valley. The avocado and blood orange margaritas are perfect for the season–light and cooling–as is the flavor-packed pineapple-ginger mojito.
To start, the tableside guacamole is a longtime favorite, and the award-winning Almejas Al Vapor is a sweet-meets-savory-meets-spicy Peruvian clam stew with rock shrimp, chorizo, pan de yucca, aji amarillo and roasted corn. As delicious as it is to eat thanks to a medley of diverse tastes and textures, it is mighty pretty, too.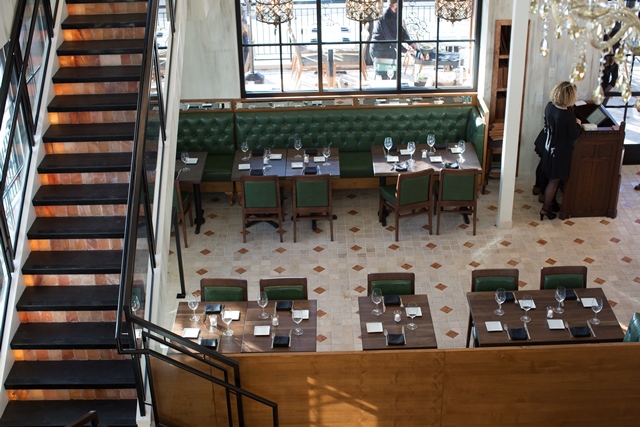 A new addition to the menu is the vegetarian brussels sprouts tacos. Each piece in the trio of street tacos is towering with roasted brussels sprouts and then dressed with sesame, chile de arbol, apple, ginger and cotija. Though comprising mostly veggies and fruit, the tacos are very satisfying, both for the belly and the taste buds. If you need a little meat in your meal, the side of fingerling potatoes, grilled chorizo and huancaina more than does the trick.
And though the espresso churros are sure to perk you up for the rest of the day, the pumpkin bread pudding, with scotch, pepitas and pomegranate, might just be one of the top Valley desserts. It is ooey, gooey, sweet and spicy, and your tablemates will be wrestling for the last spoonful.
photos by Nicky Hedayatzadeh of Mint Photography