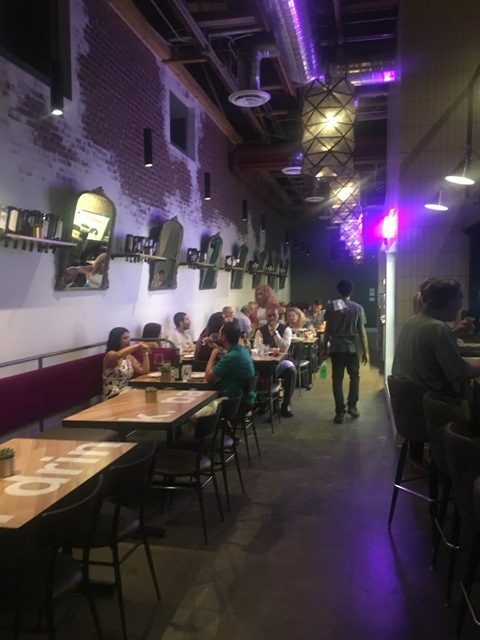 The super-laidback spot for sipping and savoring, Rott n' Grapes, has opened its second location: Rott n' Grapes RoRo in Downtown Phoenix.
The three-level bar and restaurant is open for lunch, dinner and brunch, and sets itself apart from the OG location with its expanded beverage menu to include cocktails and a small-but-packed bottle shop. (The refreshing and floral Basilisk cocktail, with vodka, Pamplemousse rose, lemon, honey and basil oil is divine.) The atmosphere is relaxed and hip, like it was plucked from a street in NYC. It featured an exposed brick wall, neon signs, exposed ductwork, chic light fixtures and, coming soon, The Onyx basement speakeasy that is sure to impress those looking for a unique way to imbibe.
The Rott n' Grapes menu was crafted by Chef Chris Newstrom and features shareable appetizers, bruschettas, pizza, paninis, salads, heartier entrees and more. During a recent visit to the new location, we sunk our teeth several of the delicious menu offerings. Our favorites: the sweet-and-salty Baci pizza with proscuitto, goat cheese, arugula, fig, EVOO and Grana Padano; the sweet corn risotto, which is basically summer in a bowl, with corn puree, parmesan, chervil, chive oil and bright pops of tomato and peas (add shrimp to it!); and the Italian-inspired chopped salad that, while simple, offers a superior flavor, with romaine, radicchio, pepperoni, finocchiona, mozzarella, cucumbers, tomatoes, olives, guindilla pepper, Grana Padano and a light cabernet vinaigrette.
And though it'll be hard not to over-indulge in a third slice of the Baci pizza or a second serving of risotto, save a little space for Rott n' Grapes RoRo's stellar desserts. The chocolate hazelnut budino is a standout with lovely fall flavors, featuring crunchy hazelnut crumbs and a scored marshmallow fluff. (PS For only $6, it is an absolute steal, too.) This is the kind of dessert that you promised you'd only have a bite or two of as you're scraping the sides of the mason jar for just one more ounce of the rich pudding.
Rott n' Grapes RoRo opens at 11 a.m. during the week and 9:30 a.m. for weekend brunch; happy hour is served until 8 p.m. each night.