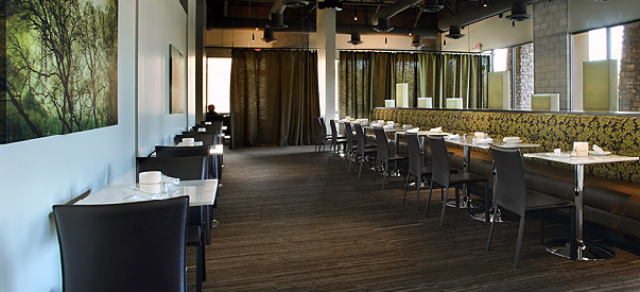 Yes, you might feel like you're having a moment of deja vu.  Though it closed its doors a few months ago (after only being open for a few months), Regions Bistro and Bar is open once again under new ownership. After enjoying a delicious lunch at the Scottsdale location (there is also a Tempe location on Mill Avenue), I have my fingers crossed that the new-and-improved Regions restaurants have more staying power.
Upon taking my seat at Regions, I felt right at home (probably due to the fact that this place looked identical to my home in restaurant form with its lovely splashes of olive green, lots of brown and botanical prints). Much of the seating is along a long both that runs through the center of the restaurant, though there are plenty of more-private tables spread throughout.
When opening Region's menu, one of the first things you'll notice is that there are two sections to the menu: the "region" menu and the regular lunch or dinner menu. You see, each month, Regions updates its "region" menu to reflect the fare of certain areas. This month, you see New York specialities while, in February, Regions will welcome a "Floribbean" menu of Florida jerk chicken, conch chowder and more. And if a certain "region" menu is especially successful, I'm told it might appear on the regular lunch or dinner menu.
During this lunchtime visit, I gobbled down the gorgonzola fries (yes, they are as dreamy as they sound) and flaky and fresh crab cakes served on a bed of spinach. For the main event, I dug into the slow-roasted prime rib sliders, served with horseradish sauce and au jus. Everything about this dish was great, from the tender, flavorful meat to the yummy bun and amazing sauces. Though I couldn't eat all three of the sliders (a girl's gotta save some room for dessert!), I sure as heck wanted to. I've also heard great things about the homemade veggie burger, the juicy burger and the roasted turkey breast sandwich served with stuffing and cranberry sauce. Who needs Thanksgiving?
For dessert, I went with the homemade s'mores, layers of chocolate, graham cracker and burnt marshmallow served in a piping hot ramekin. Though it was a big messy, especially when sharing, I suppose one could argue, "What's the point of s'mores if you can't get a little messy?" 9343 E. Shea Blvd. Suite 100, Scottsdale, 480.657.2600; 640 S. Mill Ave., Suite 110a, Tempe, 480.966.2260, http://www.regionsbistro.com/.