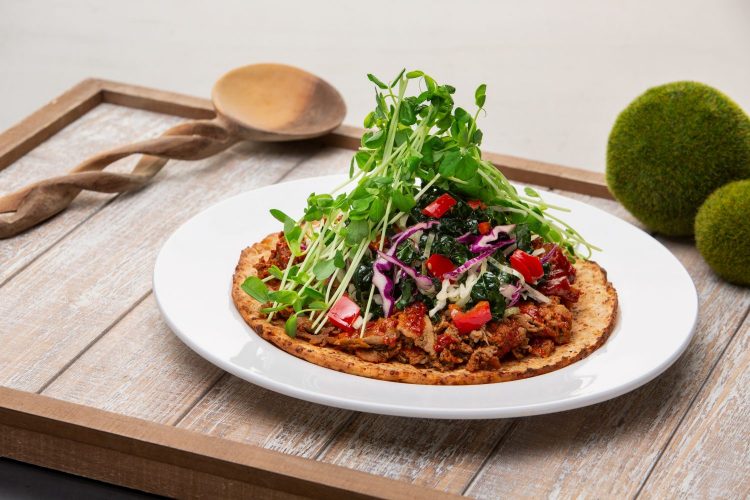 Pita Jungle has launched a new Seasonal Kitchen Crafts Menu that is available through September and offering diners delicious yet nutritious eats. Bonus: the new menu features modified keto- and paleo-friendly dishes. During a recent visit, we sampled much of the new menu–here are our three favorite Seasonal Kitchen Crafts Menu dishes.
Super Green Nordic Salmon Bowl. We are forever lovers of Pita Jungle's salmon dishes, including its salmon burger and wood-fired salmon entree with mashed potatoes and spinach. This salmon dishes definitely ups the veggie quota with its bed of Tuscan kale, red and green cabbage, peppers, fennel, garlic, lemon remoulade, fresh mint and dill. It is fresh, vibrant and flavorful; a spot-on cooling summer dish.
Shaved Korean Beef Cauliflower Tostada. The heartiest of the new dishes, this offering has shaved beef cuts, spicy gochujang sauce and a flash-sautéed super green julienne (Tuscan kale, red and green cabbage, peppers, garlic, ginger and pea sprouts). The "tostada" is actually a cauliflower parmesan crust. We suggest cutting this dish like a pizza to take in all of the flavors at once: the sweet and spicy gochujang, the fresh and crispy veggies and chewy crust.
Bone Broth Ramen with Shirataki Noodles. A healthful Keto-friendly soup, this ramen features thin shirataki noodles that are made from konjac yam. The dish is rounded out with a savory beef bone broth (a power ingredient that aids in immunity, reducing inflammation, weight loss, builds muscle and more), miso, kimchi and a dose of green via baby spinach and green onions. This dish definitely hits the spot when a ramen hankering strikes but isn't nearly as decadent (which makes it perfect for the season) or caloric.
The new Pita Jungle menu also includes Moroccan gazpacho, Mahi Burrito of the Sea, avocado cauliflower tostada and a PJ green tea panacotta.