Okay, so it's Friday. The last day of the work week and, for many, the beginning of the weekend. By now you've finalized your Friday night plans and picked out what you will wear, but wait, back up a step…what about lunch? After all, shouldn't you reward yourself for a week well done. How 'bout a little Italian?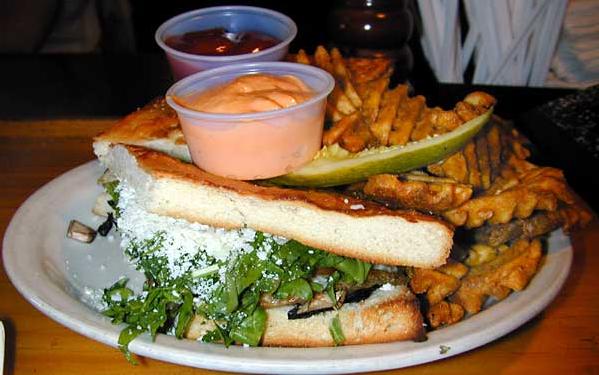 At the suggestion of a colleague, I grabbed some take-out at Oregano's North Scottsdale location, at Shea Boulevard and Scottsdale Road. I know Oregano's isn't exactly new to Valley, but it was new to me. A quick ten-minute commute from our office, we were greeted by several smiling faces–both by staff and clientele. After oogling over the menu (and their very creative titles), we came to our decisions.  I was torn between a crisp, hearty salad and a warm, baked sandwich, but I decided to take the healthy route and order the salad. Of the 10 tempting salads, we choose two: Oregano's Favorite and The Big Beefstro Salad.
Oregano's Favorite salad is colorful medley of romaine lettuce, sun-dried tomatoes, kalamata olives, spiced feta cheese, roasted red peppers, red onions, pine nuts and raisins tossed with a tasty honey vinaigrette dressing. For the beefy salad, the menu states: "grab a fork and belly up" to the Big Beefstro Salad. I thought the writer was just being creative. Nope, it's true. With a half pound of tasty shaved rib eye, jalapenos, a secret white cheese, tomatoes, spinach, romaine lettuce and sautéed crispy sweet onions, my taste buds were jazzed up. It's all served with a sweet serrano dressing, giving the salad the right amount of kick. It's kinda low fat and great for you high-protein nuts. On another note, the salads come in two sizes: moo and junior. Go all out and get the moo; it make for great seconds.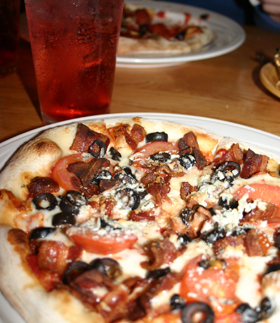 As we sat and waited for our entrées, we noticed the restaurant's charming atmosphere, artistic murals and patriot–for Italy, anyway–colors (red, white and green). Guests may choose to dine alfresco at Oregano's outdoor patio and bar or indoors, either in the main dining room and bar or across the patio, in its smaller, more intimate seating area. With a décor decked out in nostalgic oldies like an antique gas pump and classic tin signs, it's definitely worth a family-friendly night out.
From start to finish we were in and out in no time flat–now that's impeccable service especially for lunchtime. With several Valley locations in Old Town Scottsdale, North Scottsdale, Tempe, Phoenix, Mesa and Gilbert, there is bound to be one in your neck of the woods. I must admit this was my first visit but certainly not my last. www.oreganos.com. –Christine Whitton, assistant editor