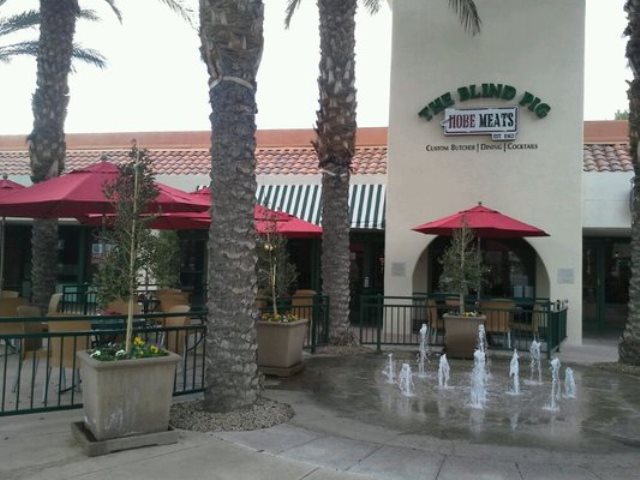 Stacked between the locally famous Italian restaurant, Uncle Sal's, and its adjoining American-Italian diner, The Sidedoor, stands the newest concept for Ram Sam Restaurants: The Blind Pig. Named in honor of the speakeasys during the Prohibition Era, The Blind Pig fuses the masterminds of HOBE Meats Butcher Shoppe with the definitive taste buds of gourmet chef Jimmy Molinari in a seamless partnership in Scottsdale.
"I like to call it Latin soul food," says owner Bob Molinari. "We researched just about every region in Mexico to bring this menu together, from street foods, traditional dishes and dishes native to the cities its origins are from. To finish off the menu, we incorporated the assistance of our chef's mentor Chef Pascal Dionot, Executive Director of The Classic Cooking Academy in North Scottsdale, in building every plate within a classic French style."
The menu boasts an intense marriage of flavors found in everything from their short rib tacos to the chipotle-glazed pork shanks (Pig Wings), and not to mention the entrees including wild mushroom quesadilla and shrimp and corn tamale.
Fresh-squeezed lime, orange and grapefruit juice create the foundation for their full bar's signature cocktails including the Blind Mule, a divine combination of grapefruit juice, ginger beer and vodka, and the Mexican Margarita with a little lime, a little salt, and lots of tequila and citron.
With grilling season well underway, The Blind Pig Butcher Shoppe under HOBE Meats offers fresh, all-natural cuts of prime grade meats. You can sit and have a cocktail while you have a pork roast or rack of lamb cut for your evening's festivities. If beef isn't in your arsenal, consider their fish, chicken, and non-traditional options of frog legs, alligator and kangaroo meat. They even sell packages of ground beef specifically for the four-legged friends.
"We wanted to bring a quality experience of buying protein, the center of your plate," Bob Molinari says. "We have used HOBE Meats exclusively within Uncle Sal's and The Side Door for more than five years, and they have provided us an opportunity to have tremendous quality and great service that we want to share with the public."
The butcher shoppe is open Monday-Saturday, 9 a.m- 7 p.m. The restaurant is open Monday-Thursday, 11 a.m-9 p.m, and Friday-Saturday, 11 a.m-10 p.m. www.blindpigaz.com. –Kirstina Bolton