I find that lunch doesn't get enough play. Breakfast is the most important meal of the day, and dinner, of course, if the real family affair. However, a good lunch can really make a pretty decent day into a wonderful day, I think. This is what happened when I went for a delicious midday meal at the new Fred's at Barneys New York as Scottsdale Fashion Square. I'd always heard about Fred's (there are also locations in New York, of course, and Chicago)–it always seemed so fancy and exciting. However, what I didn't realize is just how comforting and down-to-earth (though high-end) the Italian-American food was.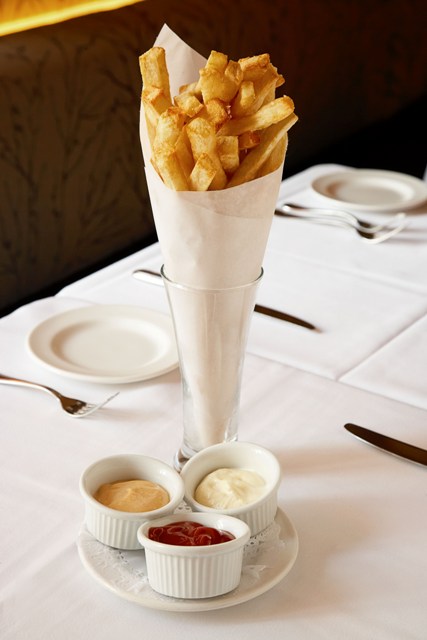 The pommes frites were piping-hot perfect, served with three dipping sauces: ketchup, a more tangy, Thousand Island-type sauce and an addiciting garlic mayo. They definitely rank among the top French fries I've ever tasted, especially when dunked in that goodness-knows-how-caloric garlic mayo. All the pizza offerings read very tempting but I tried the pie topped with proscuitto, arugula and shaved Parmesan. The pizza's thin, extra-crispy crust sure won me over. The salad selections are quite plentiful including a chicken chopped salad, a caprese, a Nicoise, and the signature Mark's Madison Avenue salad. This chopped salad featured a bit of everything, lettuce, peas, peppers, beets and more, and crowned with the scene-stealer: flaky and fabulous Italian tuna. Plenty of flavors and colors happening in this dish. The dish that truly did me in was the oh-my-goodness good spaghetti and meatballs. My grandma had always been the queen of amazing meatballs, but these Fred's meatballs, made with veal, beef and pork, sure come close. So moist, so flavorful–this dish alone is worth a trip to the mall. I cannot wait to go back for more. P.S. The spaghetti and meatball re-heated wonderfully, unlike many pasta dishes.


While the entrees are plenty filling, do save room for dessert. The flourless chocolate cake was rich and moist, topped with fresh raspberries, little chocolate crumbles and raspberry sauce. Definitely share this one–it's decadent but you really should get a few bites. The cobbler were even better. The fruit featured in the cobbler rotates and included apple on my visit. So fall-friendly! I couldn't get enough of the crunchy topping, the gooey filling, the soft apples and the vanilla gelato. Maybe we should all get our holiday shopping underway now, especially if that means at stop at Fred's at Barneys New York. 602.337.6115.