Cooper's Hawk Winery & Restaurants, a lifestyle brand and one of the nation's fastest-growing upscale casual dining restaurants, brings its unique concept to the Valley with its first location opening in Scottsdale today!
Scottsdale and the surrounding Phoenix area has gained a national reputation for fine-dining experiences, making it a natural fit for the Cooper's Hawk brand. The year-round beautiful weather, scenic surroundings, and its residents' active lifestyle were also very appealing.


– Tim McEnery, founder of Cooper's Hawk Winery & Restaurant
Opening today, the Scottsdale restaurant on Frank Lloyd Wright Boulevard is the privately-owned company's first in the western United States, and it's 43rd nationwide.
With over 35 original wines, all crafted by Master Sommelier Emily Wines (yes, her last name is wines, no pun intended) to choose from and a countless selection of dishes that range from salads, seafood, poultry, pasta, meat, and so much more. Cooper's Hawk Winery & Restaurants is the newest go-to location for lunch, dinner, or BOTH here in the Valley.
Founder Tim McEnery opened the first winery and full restaurant in Orland Park, Ill., in 2005. This year marks the privately held company's 15th anniversary, and the expansion into Arizona is the brand's western-most location.
Details for the Chandler opening in 2021 are still in development.
The Gift Shop
Upon entrance, many new guests will be shocked by the wide range of products for sale at Cooper's Hawk. There are wine glasses, liquor glasses, scented candles, customizable champagne bottles, and to-go canteens that can hold an ENTIRE bottle of wine.



The triple-insulated canteens can keep your wine at perfect temperate and chilled for hours. It's the ideal present for all the wine lovers in your life or even for yourself (absolutely no judgments).
The Tasting Room
After you get done browsing some of the various items for purchase at Cooper's Hawk, you will also notice the "Tasting Room" on the left-hand side. Available upon reservation, stop by the Napa-Style Tasting Room and sample the latest wine selections.
It is perfect to schedule before your restaurant reservation to get a feel for the wide selection of wines available for each individuals' palate.
There are three options for tasting, variety, sweet, and Lux. The Lux is for their "Lux" wines, referred to by the vines and selection of grapes used. Each tasting can be mixed and matched, but they are designed to expose each guest to new experiences and flavor profiles.
Ask for Brooke in the Tasting Room. She was so sweet and knowledgeable on Cooper's Hawk Winery & Restaurant experience for us newbies. She also had me try the "Sparkling Almond" wine, which I didn't even know existed in this world (which I now wish I had much sooner).
However, that's what Cooper's Hawk Winery & Restaurant experience is all about, having individuals experience something new and different in each visit!
Wine Club Membership
The Cooper's Hawk Wine Club is an all-inclusive membership where you will not only receive the newly released wine crafted by Master Sommelier Emily Wines each month. Members also enjoy invitations to members-only events, birthday rewards, and the Wine Club Newsletter with information on new wines, special events, and recipes.
Members also get access to monthly private dinners with multiple-courses centered around a singular wine, rewards points for every purchase, and discounts on retail wines for sale at every location.
Sign up for one-bottle a month for $19.99 or two bottles for around $37.99. The benefits of this membership are priceless.
Hopefully, depending on 2021 COVID-19 restrictions, members can also partake in domestic and international trips to the most significant wine regions.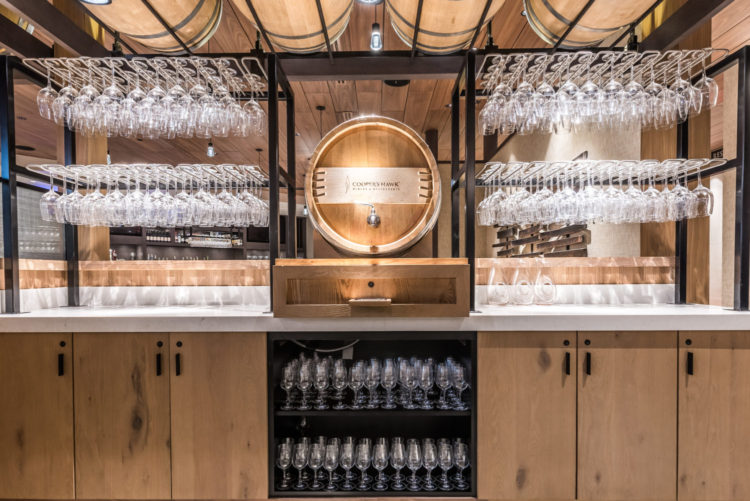 However, one of the most unique features of the membership is access to Cooper Hawk's Barrel Reserve.
Every year, Cooper's Hawk does a limited red-wine that members can taste straight from the barrel! It gives us access to tasting wine during the aging process; all members have to do is ask for a glass from their server.
Members can also take this extraordinary and limited-edition blend home in either a standard or magnum bottle.
Dining
Of course, a restaurant is only as good as the food it serves, and Chef Edmund Vogel, who has been with Cooper's Hawk for over eight years now, has perfected his craft.
To start, you must try the "Mexican Drunken Shrimp" and/or the "Crispy Brussel Sprouts." If you say you don't like Brussel sprouts, you haven't been to Cooper's Hawk yet to try these ones.


The flash-fried Brussel sprouts and cashews are tossed in a sweet Thai chili sauce. Finish it off with a drizzle of the sesame-sriracha aioli. It merely is one of the best appetizers I have tried in a very long time.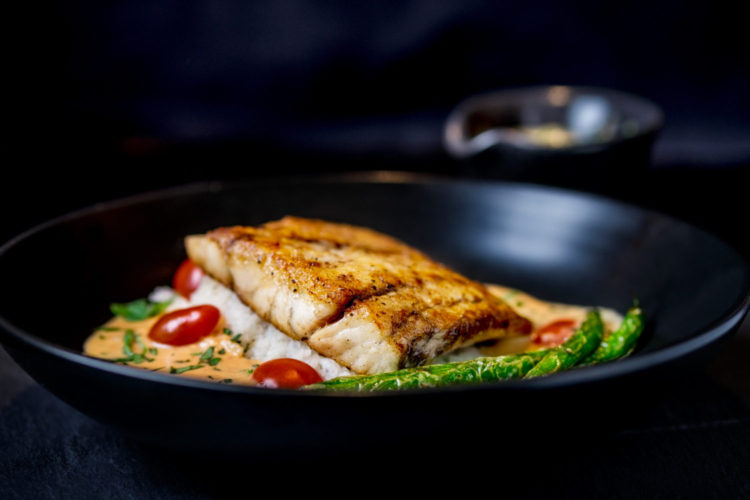 Now, I am so not a big fish dish kind of guy, but the "Pan-Roasted Barramundi" was absolutely fantastic. Barramundi is also referred to as Asian sea bass, and having it paired with the Cooper's Hawk Thai lemongrass sauce makes it just melt in your mouth.
Pair the dish with a glass of the "Unoaked Chardonnay" and you are pretty much good to-go!
Who knew that a Barramundi could taste so fresh here in the Sonoran desert!
However, an instant cult classic at Cooper's Hawk is their "Gnocchi Carbonara" or their wide variety of risotto's (shrimp, scallop, braised short rib, roasted chicken, sweet corn & tomato).
All I have to say about them is just try them both. You will be back in a few days to eat it again. I can promise you that!
What is also so unique about Cooper's Hawk Winery & Restaurant is the red wine decanter that is available for guests.
With the purchase of any bottle of red wine, Cooper's Hawk provides the table with the ultimate conversation starter AND there is no additional fees.
If you want this decanter for your home, it is available to purchase in the Tasting Room for $199.99.
View the video to see how it works!

The last thing that I would like to commend Cooper's Hawk for having is a full gluten-free menu. Celiac disease runs throughout my lineage. It is not a simple "fad" or choice for my mother or brother.
I can now comfortably bring my family to a restaurant that offers the same delicious dishes in a gluten-free option. No longer do individuals have to skim over a very select few options available for those with Celiac disease. Cooper's Hawk is truly a place for ALL to enjoy some good food, wine, and a great atmosphere to dine here in the Valley.
Do yourself a favor, and visit the upscale casual dining restaurant located in Scottsdale, Cooper's Hawk Winery & Restaurant.
Unlike other restaurants, that find a wine to complement each dish or vice versa. Here at Cooper's Hawk, our concept is relatively simple; to make wine for food and food for wine.

So our guests can enjoy an individualized and personal experience for their palates, and not ours.



– Emily Wines, Master Sommelier
For more information on Cooper's Hawk Winery & Restaurant, visit: https://chwinery.com/