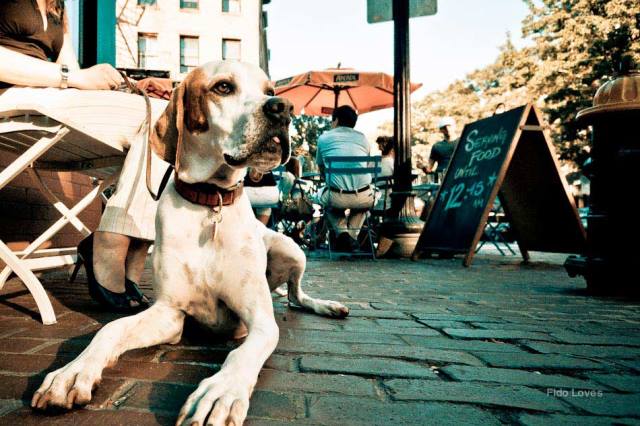 Don't leave Spot at home next time you're out sippin' and snackin' in the Valley. Take him to one of these five Valley pet-friendly restaurants where dogs are more than welcome. (Be sure to bring those leashes.)
Phoenix's OHSO Eatery & nanoBrewery has become a hot spot for locals seeking high-end pub fare (like garlic-pesto hummus and green chili dip) and a lip-smacking selection of local brews, including several handcrafted beers that are brewed on site. Fido is also welcome to join you at OHSO–bring him to OHSO's Backyard BBQ on Sundays to soak up the sweet weather and great fare (which include free second and third rounds). http://ohsobrewery.com/.
La Grande Orange, your pup is always welcome to tag along. The casual, cozy spot is usually bustling so be sure your dog isn't rowdy around lots of people before checking out LGO. http://www.lagrandeorangegrocery.com/.
Zinc Bistro at Scottsdale's Kierland Commons might be super high-end but that doesn't mean that your pooch can't park it on the patio when you're dining alfresco. Zinc Bistro dishes up incredible French fare, including a must-try onion soup, dunk confit, amazing cheese plates and more. Plus, Fido will be far from bored with the great people- and pup-watching around the shopping center. www.zincbistroaz.com.
Farm at South Mountain in Phoenix is not only one of the Valley's most family-friendly spots but the property welcomes pets, as well. Grab a sandwich or salad at The Farm Kitchen (with butternut squash creme brulee or a slice of pie for dessert) and take a spot at one of the picnic tables while your dog stretches his legs on the huge grassy property. http://www.thefarmatsouthmountain.com/.
Order up a burger and a beer (there is an ever-changing selection to choose from) at the The Handlebar Tempe on Mill Ave. and make your way to the dog-friendly patio. (As its names suggests, The Handlebar Tempe is also a prime spot for bike riders to hang up their wheels and relax for a few over French fries.) The atmosphere is cool and casual–a great place to linger with friends and their four-legged companions.  http://handlebaraz.com/.