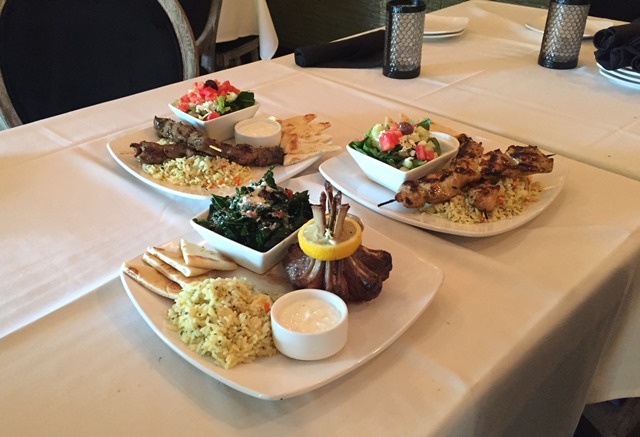 While Scottsdale and Phoenix may be the Arizona cities most known for great restaurants, Chandler may be on the rise, and The Ivy Mediterranean Lounge, which opened just two months ago, hopes to be one of the front-runners in elevating the dining scene of the city.
The Ivy is the second restaurant of owners Penélope Acosta-Komitis and Christodulos Komitis. Their first restaurant, Cyprus Grill, serves traditional dishes from the island, but The Ivy hosts a much broader menu giving guests a taste of the entire Mediterranean. The restaurant is industrial-rustic with concrete floors and an exposed ductwork ceiling, plush chairs and barstools, thick dark wood tables and lush greenery, the entire wall behind the hostess stand covered with, you guessed it, ivy.
The menu is impressive and has a lot of variety, but the appetizers are where the restaurant really shines. Start off with the hummus trio (is it even possible to go to a Mediterranean restaurant without ordering hummus?) if you want something light and refreshing. Red pepper, jalapeño and Mediterranean are the options and each of them as tasty as the other and served with crudité and plenty of pita.
Next up, split the shrimp and eggplant with spicy marinara. Don't like shrimp or eggplant? This dish will probably convert you. The shrimp are sautéed and the eggplant breaded, pan seared and finished in the oven. The whole dish is topped with a delicious not too spicy marinara sauce.
Finally, what may be the star appetizer—saganaki. It's fried cheese; is there anything better? It's heavy and indulgent but so worth it and is flambéed upon its arrival to the table. Eat it alone or as an open-faced sandwich on pita—there is no wrong way.
For the main course, the Chilean sea bass is a winner, cooked perfectly with the edges just a little crispy for a satisfying crunch with the first bite. It's served with a traditional but still delicious kale salad and vegetables. Or if you're in need of something a little more typical Mediterranean, try out any of the skewer dishes, lamb, chicken or shrimp, all served with kale salad, rice and a yogurt sauce.
Right now it's too hot to enjoy the Ivy's patio, but come fall their outdoor space will be a great hangout where they'll also have live music. They're also in the planning stages of a brunch menu, so be on the lookout. —Sara Goodwin