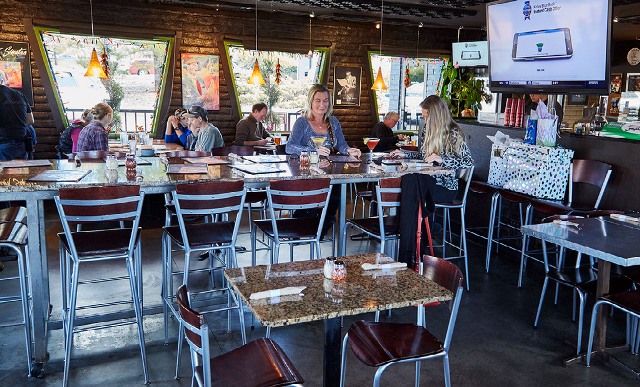 For years, Chef Lisa Dahl has been the star of the Sedona (and beyond) dining scene, making waves with her Mariposa, Cucina Rustica and Dahl & DiLuca restaurants. (Plus, Chef Dahl has some exciting things on the horizon for the new year. One word: burgers.) During a recent visit to the land of the red rocks, we stopped by Pisa Lisa, Chef Dahl's casual, family-friendly outpost for pizza, gelato and some incredible tomato bisque.
Conveniently located along the 89-A, Pisa Lisa is the perfect spot for a laidback lunch or dinner as you head into Sedona. Though small, the eatery packs in the charm; it is cozy, welcoming and immediately gives guests the impression of a casual neighborhood favorite that families flock to after a weekend soccer game or for a chill date night. (The patio's cute, to boot.)
Especially during this chilly time of the year, a meal at Pisa Lisa must begin with a bowl of Tuscan tomato bisque, sided with crispy crostini. The velvety soup is the ultimate comfort food, bursting with sweet and tangy tomato. This bisque is so yummy that Chef Dahl even offers it by the quart to warm up at home.
The bruschetta trio is another must-order app and will prove to be a real crown pleaser. The starter includes traditional tomato basil, olive tapenade with chèvre and, our favorite, pine nut and artichoke-truffle parmesan. Each piece is brimming with fresh ingredients and flavor, with the juicy tomato basil bursting with brightness and the pine nut offering decadence with every bite.
Of course, a pizza is in order at Pisa Lisa, and Chef Dahl has quite the list of 'za to choose from. Half of the lineup features the sweet and spicy red Mother Sauce, while the other half is sauce-less white pizza. (There are even several vegan options, and we hear the gluten-free crust is pretty amazing!) We dug into the Primo Portobello with Mother Sauce, provolone-mozzarella, roasted portobello, cremini and button mushrooms, crushed red pepper, oregano, parm-reggiano and a crown of peppery arugula. Each slice has that perfect balance of crisp and chew, topped with plenty of savory mushrooms and a touch of the spicy red pepper. We couldn't wait to warm up the leftovers the next day, which Chef Dahl recommends doing in a hot pan on the stovetop.
A visit isn't complete without a cup or two of Pisa Lisa gelato, most flavors of which are made in house. (If not, they come directly from Italy.) Though the lineup changes, we stuck a spoon in the delicious cookies and cream and fresh strawberry flavors, though we're pretty sure you can't go wrong with scooping up any of Pisa Lisa's yummy options.