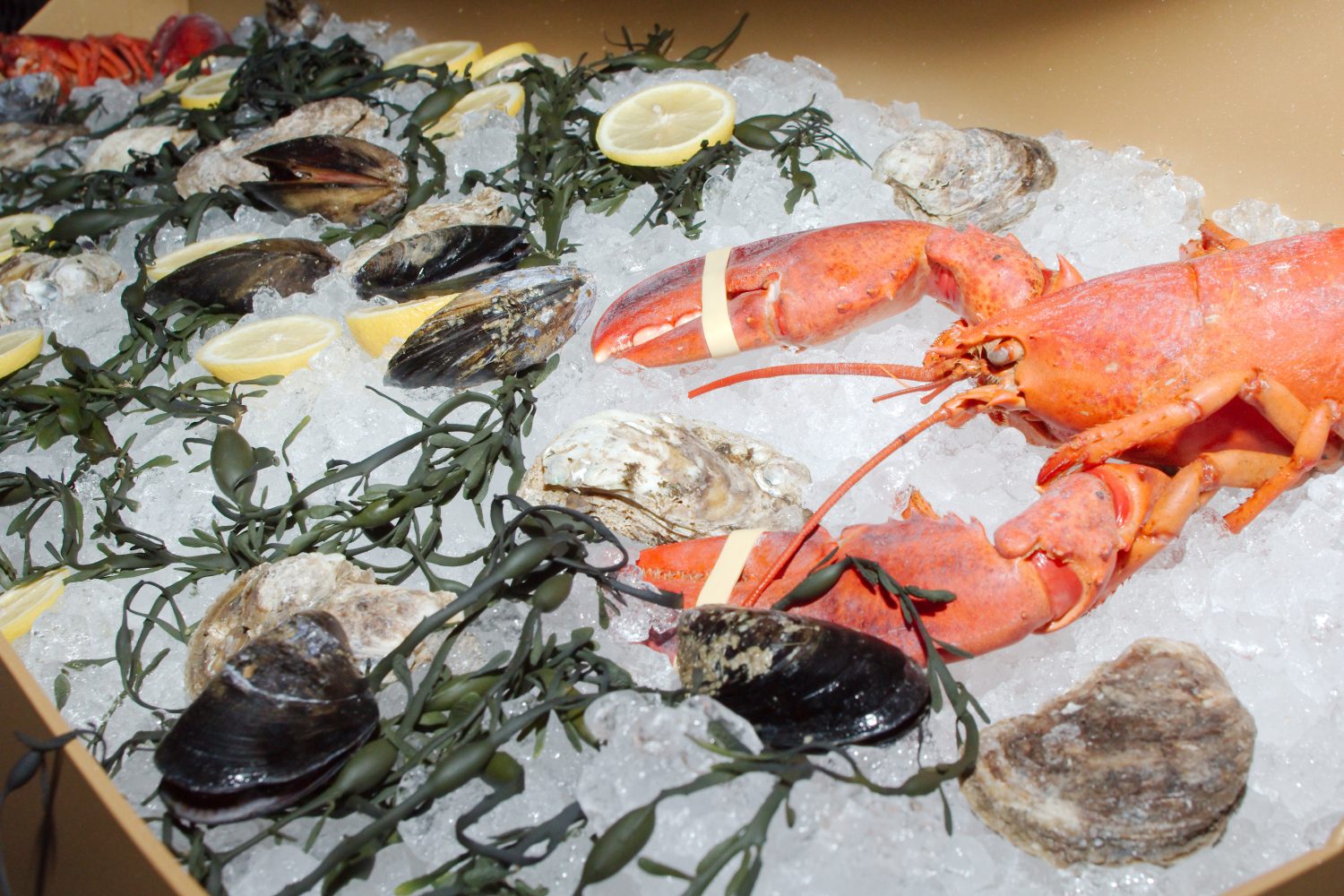 When stepping inside of Scottsdale's brand-new MODERN OYSTERBAR CHOPHOUSE, there is an energy in the air that reminds me of dining at a ritzy restaurant in Vegas or New York City. The expansive restaurant (located in the spot that was formerly Sonata's Restaurant) not only looks the part–with glistening lights, round tufted booths, a bustling bar area, cool knife-inspired artwork and a chic palette of deep blue and gray–but the high-end menu from Executive Chef Mike Bouwens (formerly of Zinc Bistro) drives home MODERN's classy appeal. 
The steakhouse was founded by a trio–Cat and Randy Frankel and Frank Schneider–that has nearly 99 years of combined restaurant experience from local standouts like Steak 44, Zinc Bistro, Mary Elaine's, Mastro's Ocean Club and Bourbon & Bones. And the experience definitely shows.
To complement its menu of fine steakhouse fare, MODERN has a full-service bar, which even has four different wines, two specialty cocktails and draft beer all on tap, along with an extensive drink menu. (What's a steak dinner with a glass of red, right?) On the opposite side of the dining room, another bar serves as the focal point of the restaurant: an impressive oyster bar. As MODERN's name suggests, oysters are big deal here. A variety of oysters are always available and served with the works. Even the oyster-opposed might give them a go upon seeing the beautiful presentation and thumbs-up from the seafoodies at the table. 
To continue the seafood action, a plateaux is a great way to get a taste of everything and to add a little surf to your turf. The petit plateau, which can be made chilled or warm, is perfect for three or four diners, and features a half lobster, four grilled shrimp, two crab legs and three grilled scallops. Each bite is buttery and rich; no frills here, just fresh and delicious seafood doing its thing.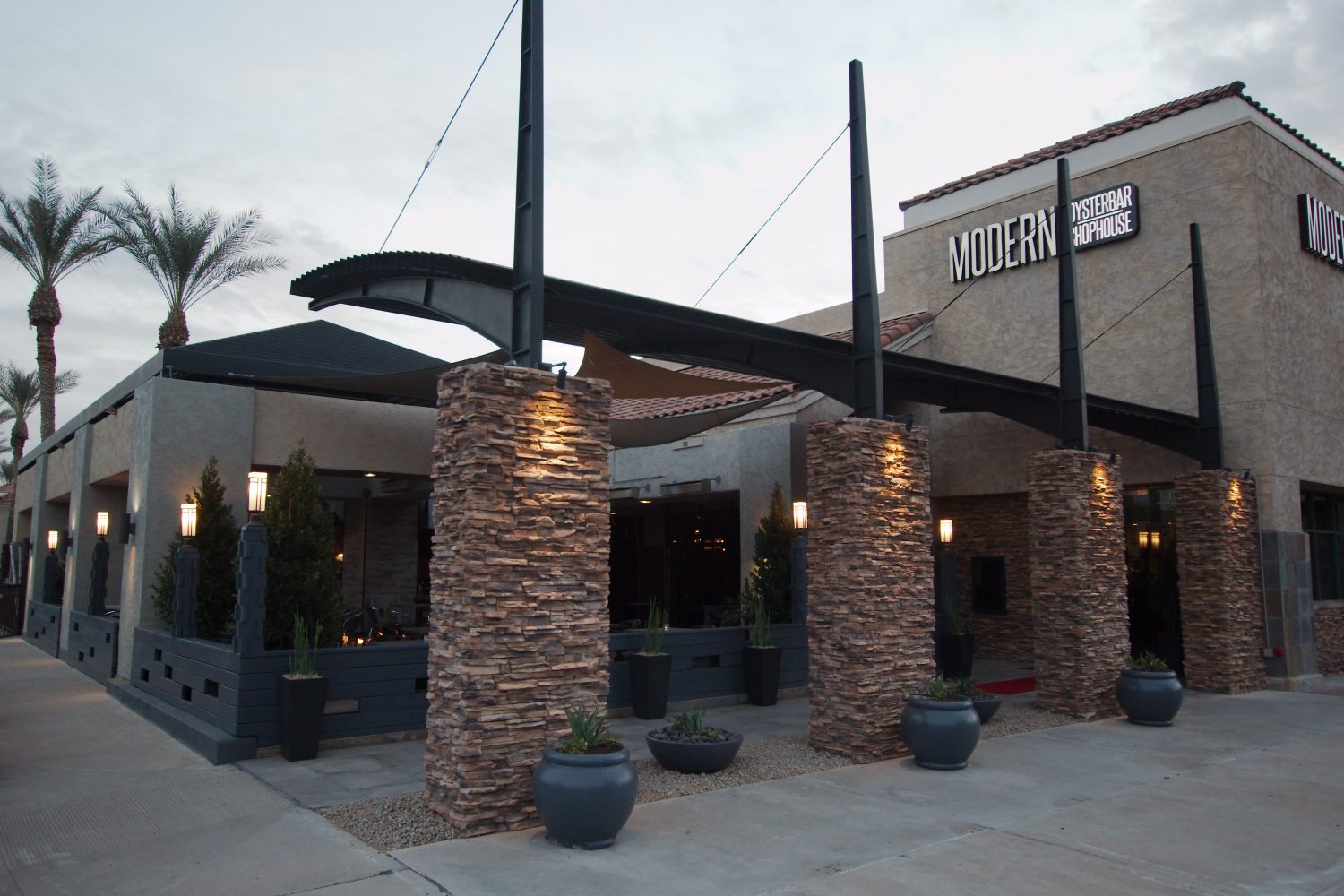 Since veggies are always a good idea to balance out all the butter, the burrata and tomato salad is a great pick. The refreshing salad features big-as-your-head heirloom tomatoes, creamy dollops of burrata, roasted elephant garlic, sourdough crumble and drizzle of sweet fig balsamic. For a more decadent salad, the spinach salad is tops, crowned with a bacon-poached farm egg, warm bacon vinaigrette, and, my favorite, a hazelnut-and-goat cheese crouton. 
Steak lovers have their work cut out for them at MODERN (what to choose?!), thanks to the restaurant's stellar selection of meaty entrees. For an all-out feast, the long-bone ribeye is MODERN's most marbled cut and, at 32 ounces, could feed an entire family. Each bite melts in your mouth and begs to be savored, really enjoyed. The steaks are cooked to order, and a variety of sauces and upgrades are available, if desired. Not that the steak needs it, but the sauce Diane is a favorite. 
In true steakhouse fashion, the sides at MODERN are as decadent and memorable at the meat. The mac and cheese is crafted with carmody and aged white cheddar, offering a bit of tang. (Go ahead, add lobster to it.) The creamed corn is finished with cotija, chile and–the kicker–smoked mascarpone for a Tex Mex-esque option. And with a name like "the best mashed potatoes ever," it's not an option to not order the mashed potatoes, brimming with the basics–cream and butter–for a traditional and delicious side. Bonus: these all heat up beautifully at home for tomorrow' dinner.
At this point, another bite seems impossible. Until you spy the dessert menu. The tart key lime pie is refreshing and cooling, while the banana bread pudding, topped with candied bacon slices, is skillet full of caramelized, glistening, golden goodness. Can't choose among the desserts? MODERN can dish up a plate of half portions so you don't have to decide.
MODERN is open Sunday, Tuesday and Wednesday, 4 to 9 p.m.; Thursday to Saturday, 4 to 10 p.m.