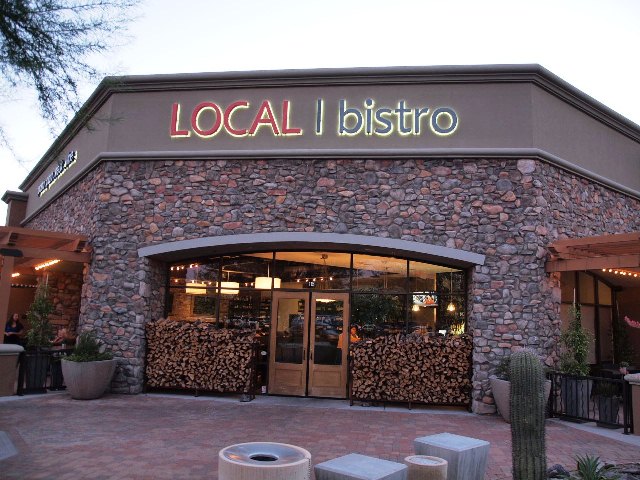 Few things are more comforting than ooey gooey cheesy bread, crispy pizza and a big bowl of pasta, especially as the temperatures start to make their way into double-digit territory. We had the chance to dig in to a two-year-old eatery in Scottsdale that is serving all of this and more (in a super chic setting, to boot).
Upon first setting foot into Local Bistro, diners will notice the cool industrial-chic atmosphere, including exposed ceiling pipe work, shelves upon shelves of wine bottles and specials listed on the chalkboard walls. And the food will impress as much as the atmosphere.
For starters, the drunk bread is a signature item that'll make most bread-based apps seem lame. The large slice of crusty bread is served in a skillet and has been soaked in white wine and topped with melted gruyere cheese. Though the wine imparts a great flavor, the bread is far from mushy–it is more melt-in-your-mouth-y. The ahi tuna tartare is also a great way to start a meal at Local Bistro. It tastes fresh and flavorful–a yummy to wake up the taste buds.
We can't go to an Italian eatery without ordering pasta and pizza. At Local Bistro, the winning dish is the pappardella bolognese. The noodles are hearty and delicious, and the bolognese sauce is meaty and slightly sweet. The Regina pizza–a traditional offering of tomato sauce, mozzarella and basil–is a wood-fired wonder. The thin crust is crispy and provides the perfect canvas for the fresh, no-frills ingredients. It might be simple, but it is stellar. Next time, we're testing the risotto we heard raves about.
What's even better than the pizza is that Local Bistro is opening a sister location in Phoenix: Central Bistro. Central Bistro, which will be located in Zen 32's former spot, promises great indoor/outdoor dining and a from-scratch menu. Central Bistro opens this week. www.localbistroaz.com.