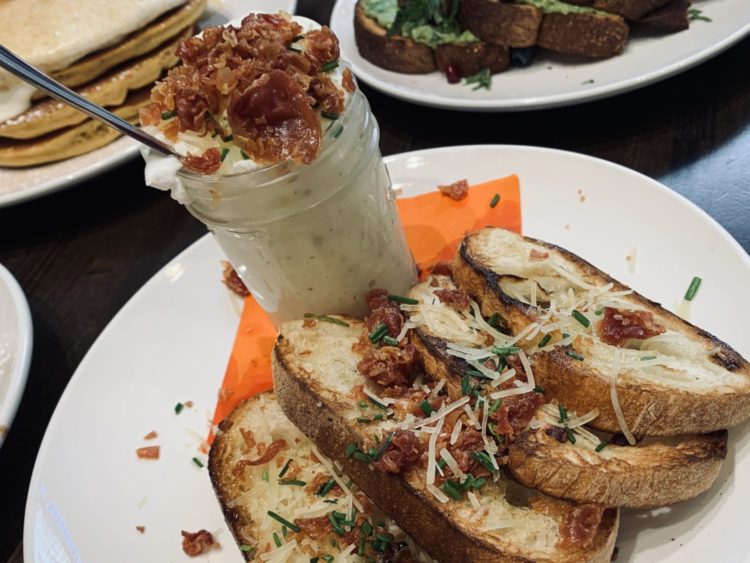 Voted Best of our Valley's Breakfast in 2019 and a 2020 nominee, Eggstasy's newest location is already wowing Chandler locals with its unrivaled menu selection and charming staff. Located at the Watermark at Chandler Air Park, the buoyant breakfast joint exceeds its goal of providing guests with "a surreal dining experience." Lively environment, generous servings, gorgeous plating and refreshing beverages— the next time you plan brunch, choose Eggstasy. When you do visit, be sure to try out a few of our personal favorites:
Lemon Ricotta Pancakes
Every stack of pancakes Eggstasy whips up are delicious but trust us when we say the lemon ricotta are the most popular for a reason. A methodical combination of lemon curd and blueberries makes for a zesty sweet that crumbles in your mouth and is frighteningly easy to eat.
Pumpkin Cheesecake Pancakes
Pumpkin-flavored pancakes smothered in cheesecake sauce and served with a side of whip cream. If you need an excuse to binge, these are it! This stack of heaven will undoubtedly satisfy your sweet tooth while fulfilling your most ambitious fall cravings.
Eggasm (pictured)
Eggasm confirms the restaurant's unprecedented creativity in the kitchen. Coddled eggs and potato purée are mixed in a mason jar then topped with crisp prosciutto crumbles, chives and parmesan cheese. Toasted ciabatta accompanies the dish. Savory lovers, this plate understands you and will leave you complimenting the chef!
Roasted Garlic, Toasted Almonds & Asparagus Omelet
Eggstasy owner, Peter Verros, is not dubbed the egg king for nothing. This omelet surely showcases the restaurant's innovative assortments. Roasted garlic, asparagus, monterey jack cheese and mushrooms are cooked into an omelet topped with toasted almonds and a sweet balsamic reduction. This flavorful dish is filling and fit to meet every sweet-savory desire.
Beverages: Fresh Squeezed OJ and Nitro Brew
Who knew something so simple could be so divine? Eggstasy shows guests what fresh actually tastes like. Squeezed fresh every morning, the restaurant's orange, grapefruit and strawberry orange juice is oh-so refreshing while the nitro brew on tap is smooth and delicious. Either beverage is sure to get you going. –Aubrey Martin