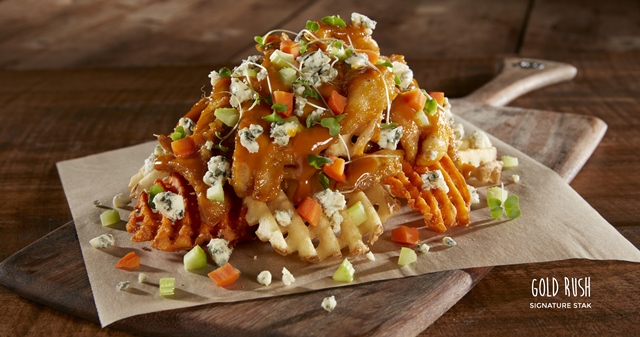 That Gilbert sure is booming, and one of its newest dining additions is also one of its more unique fast-casual offerings. GRUBSTAK is now open near Clever Koi and behind Nico Heirloom Kitchen. As its names suggests, you basically "STAK" your meal. You see, you can choose from a menu of predetermined entrees or make your own starting with a base of crispy waffle fries (sweet potato, regular or a 50/50 mix), roasted root vegetables or crunchy greens and then add other ingredients, like braised in-house proteins, fresh toppings and homemade sauces.
The interior is open, airy and contemporary, perfect for a quick lunch or dinner with friends or family (very kid-friendly with a great menu for the little ones). If you opt not to make your own entree, there are a good 15 options to choose from, not including some very tempting desserts. Probably the best thing about GRUBSTAK is there is a dish for any taste, whether you are wanting something healthy and nutritious or are craving some indulgence. For those good-for-you days, the Power Garden STAK is a great option. It features quinoa, roasted root veggies, kale and roasted chicken, all tossed in basil pesto, for a hearty, yet healthy dish. Plus, this made for yummy leftovers the next day as the pesto sunk into the chicken, quinoa and veggies even more so.
For those I-want-lots-of-cheese-and-carbs days, the GRUBCHETTA (described as a melding of grilled cheese and bruschetta) lineup is for you. The dreamy Mac Attack features two thick pieces of crisp Texas toast filled with cheesy pasta and shishito pesto. You may not want to dig into this sort of dish every day, but it is definitely a must get a time or two. Or, perhaps split it with a pal to share the guilt–and the goodness.