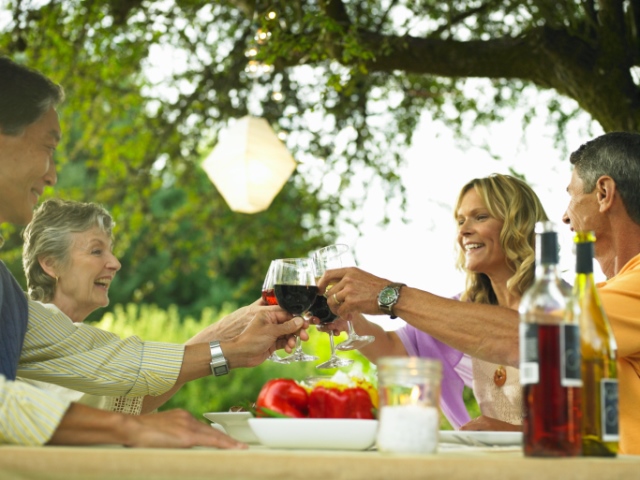 Mother's Day is Mom's chance to kick back, relax and sip away. But what are the best wines to gift and serve for this Sunday's holiday? We asked Paradise Valley residents Lisa and Randy Lynch, owners of Bennett Lane Winery in Calistoga, Calif., for some of their favorite entertaining tips with wine for Mom's big day:
1. We always kick off Mother's Day brunch with a celebratory glass of sparkling wine.  We love the delicate bubbles and refreshing palate of the Blanc de Blancs from Napa Valley producer Schramsberg Vineyards.  Add a splash of raspberry liqueur and garnish with a single fresh raspberry plus a sprig of fresh mint for even more panache.
2. One of Lisa's favorite Mother's Day dishes is Crab Eggs Benedict paired with our fruit forward 2012 Bennett Lane Reserve Chardonnay.  Crafted with fruit from a single vineyard in the cool-climate Los Carneros region of Napa Valley, it's the perfect flavor counterpoint to the meaty flavor and texture of the crab and the creamy-lemony notes of the hollandaise sauce.
3. A nice way to get the kids involved: Purchase a couple of sturdy and inexpensive wine glasses or tumblers along with some enamel paints specifically made for glass (available at most crafts stores) and let each child decorate a special glass for Mom. Present Mom with the custom-painted glassware along with her favorite bottle of wine (from Dad) for the occasion.
4. When the kids, their significant others and grandkids return to the roost for Mother's Day, we inevitably fire up the grill for burgers and tri-tip. Both taste delicious paired with our 2009 Bennett Lane Napa Valley Cabernet – a beautifully concentrated and elegant Cab with great notes of black cherry and chocolate that team nicely with the seasoned, grilled meats. Depending on how early we open the first bottle, we might even sneak a splash or two into the marinade before grilling!
5. A nice bottle of wine is always a great gift for Mother's Day. For even more impact, dress it up with a few accessories such as jeweled wine charms, colorful cocktail napkins, a monogrammed wine carafe or wine tote, or even a box of gourmet dark chocolates.
6. If you're entertaining a crowd on Mother's Day, be prepared for all kinds of wine palates by placing an assortment of varietals and wine styles on the table. For white wine fans, consider a crisp, light white such as Pinot Grigio or Viognier. For those who prefer reds, offer a medium-bodied Pinot Noir plus a heartier varietal such as Merlot or Cabernet Sauvignon. Approachable and fruit-driven blends such as our velvety, 2009 Bennett Lane Maximus Red Feasting Wine are also versatile crowd-pleasers.
7. A vintage-dated bottle — or bottles – from the birth year of each of her children is a really special way to remember Mom on Mother's Day. Up the ante with a single vineyard or reserve Such wines, typically made in very limited quantities, are more expensive, but will go the distance…just like your enduring love for her. One of our personal favorites: our 2010 Lynch Family Vineyard Cabernet Sauvignon – our most exclusive bottling from the Lynch Family Estate in Calistoga.