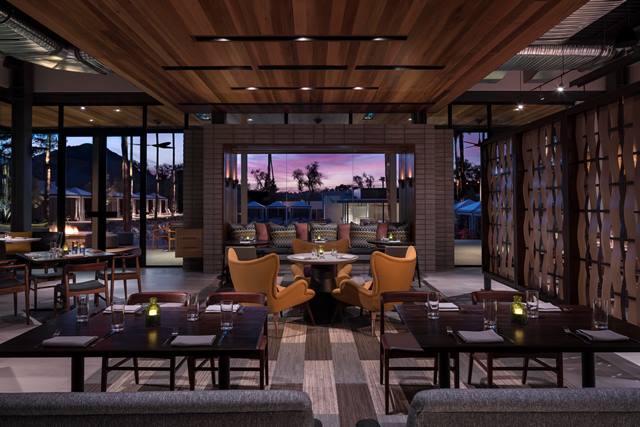 Andaz is one of the hottest new resorts in Scottsdale, with its modern artsy décor and contemporary vibe. The glass-walled Weft & Warp restaurant offers great views of the surrounding resort and creative culinary presentations.
The creative fusion of cuisine and cocktails comes to life at a Storytellers Dinner, most recently with Casamigos Tequila. The concept behind these dinners is to explore the story of a particular spirit, followed by a four-course dinner collaboration between Weft & Warp's chefs and mixologists.
In the case of Casamigos, the evening began with a cocktail reception and a classic Paloma, a concoction of Blanco tequila and grapefruit soda. The story of Casamigos is simple: buddies George Clooney and Rande Gerber were on a quest to find a drinkable tequila, one with a flavor that didn't need to be covered up by salt or lime. So, they decided to create one. Initially, it was for private consumption, until they extended their "house of friends" to include every tequila enthusiast. It was too good not to share, and has a slew of awards to prove it.
So that's the story of Casamigos, but the real profile is the flavor. It's a highly drinkable, smooth tequila, offered as blanco, reposado, and añejo, all made from hand-selected Blue Weber agave, grown in the highlands of Jalisco, Mexico. Casamigos is characterized by strong hints of vanilla, clean flavor, complex aromas, and a smooth finish.
And while it's perfect for sipping, Weft & Warp offered some fine examples of mixed drinks, using the blanco for the No Animals Were Harmed in the Making of this Margarita; resposado for Herbs, a beautiful and tasty presentation with a hibisucus berry and rosemary ice cube and thyme syrup; and añejo for a barrel-aged Oaxaca old fashioned, with bitters and mescal for a pleasantly smoky finish.
While Casamigos headlined evening, the food was a worthy co-star. Cured salmon with jalepeño pearls, avocado and pine nuts paired nicely with the citrus tones of the margarita; the savory Hayden Flour Mills Pasta with roasted mushrooms, poblano crema and reposado poached shrimp was a perfect complement to the thyme and hibiscus Herbs cocktail. The roast ostrich loin was the highlight, its flavors enhanced by the accompaniment of the smoky Oaxaca old-fashioned. The evening ended with a blanco-tequila-soaked cake and fruit.
Weft & Warp will add another chapter to the Storyteller Dinner series in April, when a little bit of Scotland comes to Scottsdale with Glenmorangie single-malt scotch whisky. Grab a friend and an Uber to visit Weft & Warp, or make it a night with a room at Andaz Scottsdale.
Storytellers Dinner, Volume III
Featuring Glenmorangie, told by brand ambassador Clarke Boyer
April 25, 6 p.m.
$120 per person, plus tax and gratuity
There will be a 30-minute social reception, followed by a four-course dinner prepared by Chef Adam and his kitchen team, paired with rare selections from Glenmorangie's portfolio. Visit the website (https://scottsdale.andaz.hyatt.com/en/hotel/dining/weft-warp-art-bar-kitchen.html) for more information, or call 480-214-4622 for reservations.
–Becky Antioco