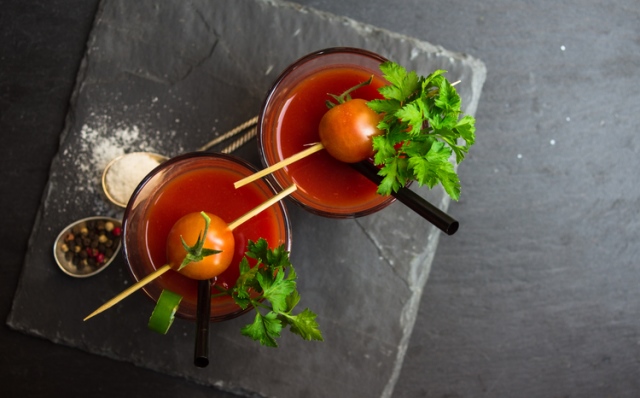 Jan. 1 marked National Bloody Mary Day. To honor the month of this popular cocktail, the pros at Grimaldi's answer a question on everyone's cocktail-loving minds (followed by a recipe): What makes a good Bloody Mary?
A Bloody Mary is unique in the bar world these days as being the only cocktail who is more known for its garnish than for the actual quality of the drink. Can you imagine if you ordered a Manhattan based on the type of cherry instead of the whiskey, or a martini solely for the olive?
That's not to say that a good garnish can't make or break a cocktail, but it certainly should be treated as an ingredient that complements the drink, not just something thrown on top for looks.
So if the garnish doesn't make the Bloody Mary, what are the keys to making a good one?
Stay away from premade Bloody Mary mixers – Sure, there are great ones out there, but I like to be able to adjust every aspect of my mix. Salty, sweet, spicy, everyone has their own sweet spot.
Quality is key – Start with a great tomato juice, or even a thinned out tomato sauce. You're never going to make a great pizza if you start with a mediocre pizza sauce and a cocktail is no different.  Apply this to all the other ingredients as well; Good olives, fresh squeezed lemon juice, freshly grated horseradish.
Mix up the alcohol – Sure vodka is the traditional choice, but it doesn't add very much flavor to the drink. Gin is an excellent substitute for vodka (technically making it a Red Snapper, I know, but that doesn't have quite the same ring to it), it's not overpowering and the herbal notes really blend well with the tomato and other ingredients. Mezcal is another great option as well, the smokiness really just works.
Theme – This I think is the most important of all to making a Bloody Mary that everyone will remember: Mix up your recipe to match whatever you are serving it with.  Serving it with Italian? Throw in some fresh basil or Oregano, maybe even a splash of Cynar.  Big Juicy steak? Maybe a little extra Worcestershire and horseradish. Mexican?  Mezcal and jalapenos. Middle Eastern?  Spice it up with Sriracha instead of Tabasco.   The sky is the limit when it comes to mixing it up, think about the cuisine you are serving it with and go crazy.
RECIPE:
Fill 16 oz pint glass with ice.
1.5 oz of either vodka or gin
3 oz – Tomato sauce
3 oz tomato juice
1 teaspoon Worcestershire
1/2 teaspoon horseradish
1 teaspoon olive juice
1/2 teaspoon lemon juice
5 dashes hot sauce
3 grinds of fresh cracked black pepper
1/4 teaspoon celery salt
Thoroughly combine all ingredients.