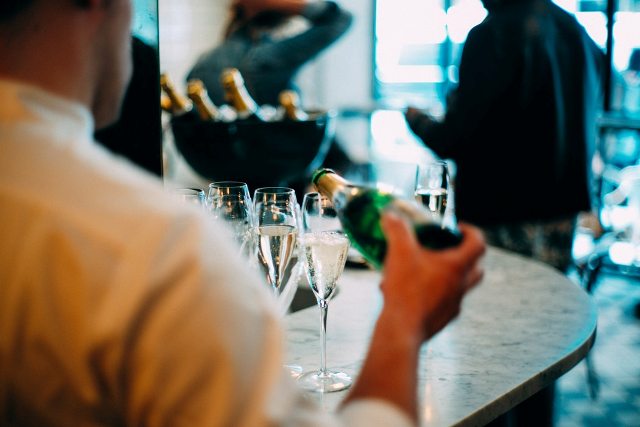 Need a little lowdown on bubbly before the ball drops at New Year's Eve? Here's everything you need to know this holiday season about Champs from Mountain Shadows Food and Beverage Director Jim Gallen.
In the midst of the holiday season, bubbles are often perceived as the beverage of choice for a celebration libation. The pop of a Champagne cork signifies merriment in any circumstance. Unfortunately, we don't choose sparkling wine more often for many reasons. Mostly due to the fact that we are conditioned to drink sparkling wine for only celebratory occasions, and we don't have enough proper education on which sparkling wine to choose for the right price.
As you read on, I hope you're convinced that we can drink bubbles whenever we want; the world of sparkling wine is more exceptional than we realize.
Let's begin by talking about the world of non-Champagne bubbles and where they come from.
Cava is sparkling wine from Spain. Although the method of making sparkling wine is similar, the cost to grow the grapes and the fame the regions have achieved is far less, therefore the cost to purchase Cava sparkling wine is less than Champagne. In addition, here are two of my personal favorites:
Rondel Brut Cava, this crisp, dry sparkling has flavors of stone fruit and a long finish.
Segura Viudas Brut Reserva is a lighter elegant style of bubbles with notes of green apple and pear.
Other sparkling wines that serve their own special purpose in the wine spectrum include:
Prosecco, an Italian sparkling wine that has developed a name for itself today. You can find prosecco in almost every restaurant by the glass and in every wine shop. Two of my favorite types of Prosecco include Cavit Lunetta and Nino Franco, one of the finest producers in the Veneto.
Gruet Brut from New Mexico with light citrus flavors and a full-bodied style. You simply can't go wrong but don't just take my word for it; in 2016, Wine Spectator Magazine ranked the Gruet Brut as one of the year's Top 100 Value Wines.
Brickstone Cellars Brut from Finger lakes in NY which is a medium-dry wine with notes of toasted bread and rose petals.
In France, you can find affordable bubbles outside of Champagne, most notably in the Cremant region and my recommendation is Luc Belaire Gold with notes of Lilac and citrus.
I recommend bubbles for anyone that enjoys celebrating the small pleasures in life. Not to mention, it can easily brighten up any day and that's a good enough reason for me to raise a glass. Cheers!