Don't save all the cooking for the end of the month. Celebrate the start of November with some mighty fine recipes from Lon's at the Hermosa Inn in Paradise Valley.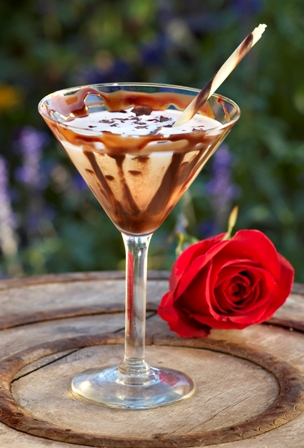 Chocolate Kiss
1 1/2 ounces Stoli Vanil Vodka
1 ounce Godiva White Chocolate Liquor
3 ounces Cream
Serve in a chocolate swirled glass. Garnish with a chocolate duo stick and fresh chocolate shavings. Yield: one drink.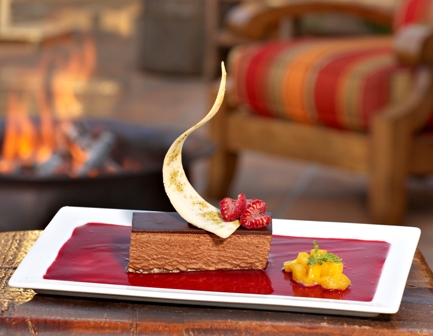 Chocolate Sabayon
4 ounces Whipped cream
3 Egg yolks
2 ounces Sugar
2 ounces Semi-sweet chocolate, melted
1 Gelatin sheet
Whip cream and set aside. Whip egg yolks and sugar until light and fluffy. Add melted chocolate to egg mixture. Soak gelatin sheet in cold water until soft, squeeze out all water. Add one ounce of whipped cream to gelatin and heat until gelatin is completely dissolved. Fold gelatin into chocolate and egg mixture. Combine whipped cream with chocolate mixture and pour into desired mold. Let set up in freezer. Serve with berries, mango and raspberry sauce. Yield: one dessert.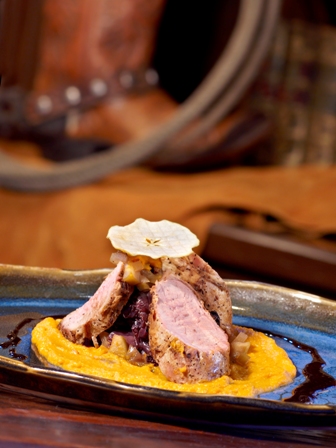 Pork Tenderloin with Sweet Potato Mash
Pork Tenderloin
2 Whole pork tenderloins, trimmed, reserve trimmings
Salt and black pepper
Season the pork tenderloin and brown in a hot pan. Place in a 350-degree oven for 12 minutes. Allow to rest outside the oven for 5 minutes.
Sweet Potato Mash
2 Large sweet potatoes, cut into small pieces
1 1/8 teaspoons Cinnamon
1/4 pound Butter
Pinch Salt
Boil and mash the sweet potatoes. Mix in cinnamon, butter and salt.
Baby Green Beans
1/4 pound Baby green beans, cleaned
In a large pot of rapidly boiling salted water, cook green beans until tender. Strain and toss with butter, salt and pepper to taste.
Prickly Pear-Braised Red Cabbage
1/2 head Red cabbage, chopped
1/2 cup Prickly pear purée
1/2 cup Balsamic vinegar
1/2 Large yellow onion, chopped
1/4 pound Apple smoked bacon, chopped small
2 tablespoons Canola oil
In a large pot with a cover, brown the bacon in the canola oil. Add onion and cook until translucent on low heat. Add cabbage, prickly pear purée and balsamic vinegar. Cover and cook on low heat until tender, about 1 1/2 hours.
Port Wine Sauce
4 tablespoons Shallots, chopped
2 sprigs Thyme
1 cup Ruby red Port wine
2 cups Veal stock
Reserved pork scraps
In a small sauce pot, brown the pork scraps on high heat. Add shallots and sauté until translucent. Add the Port wine and reduce it by half over medium heat. Add veal stock and heat to a simmer. Reduce sauce until it lightly coats the back of a spoon.
To Plate: Place the sweet potato mash in the middle of a large dinner plate with the cabbage on top. Slice pork and place it around the cabbage. Place green beans on top, sauce lightly with Port wine sauce. Yield: four servings.