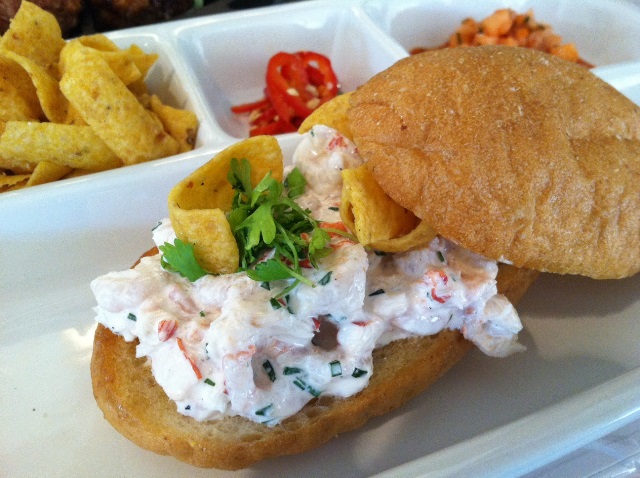 On Saturday, April 6, the Children's Museum of Phoenix will host its annual Kids at Heart Gala: Cirque du Musée. The circus-themed black-tie event–and its happenin' after-party–will feature eats by some of the Valley's top chefs: Eddie Matney, Rita French, Stephen Toevs, Beau MacMillan, Jay Bogsinske, Michael Lamey, Stephen Stromberg, Jason Alford, Michael Rusconi, Tammie Coe and Jose Hernandez. In honor of this weekend's event, a few of the fab Cirque du Musée chefs shared a few recipes for at-home chefs. (Proceeds from the event fund the Every Child Program providing free and reduced Museum access to families facing financial, emotional or other challenges.)
Chilled Lobster and Sweet Shrimp Torta by District American Kitchen and Wine Bar
Serves 6
Lobster and Shrimp Torta
1 small bag Fritos®
1 small jar pickled jalapeños
2 pounds lobster and shrimp salad (recipe follows)
1 stick butter
6 pieces 4-inch torta bread
Lobster and Shrimp Salad
1 pound lobster meat cooked, cooled and chopped
1 pound bay shrimp, cooked
1 cup Mexican crema
1 cup cream cheese
1 cup Crow's Dairy goat cheese chevre
½ cup mayonnaise
½ cup lime juice
½ ounce lime zest
½ cup basil, chopped
½ cup tarragon, chopped
2 tablespoons chives
2 tablespoons whole grain mustard
Salt and pepper to taste
Lobster and Shrimp Salad:
Whip all ingredients except lobster and shrimp. Fold in lobster and shrimp. Adjust seasonings.
Lobster and Shrimp Torta:
Cut torta bread lengthwise with wedge in center of bread; top of bread to be used as a "lid." Spread butter on torta bread and toast in pan. Remove bread from pan and place lobster and shrimp salad in wedge of bottom slice of bread. Place jalapeños and Fritos on top of lobster and shrimp salad. Top with the lid of the torta bread.
Shrimp in Garlic Sauce by Province
1 pound peeled and deveined shrimp, 41/50 count
4 each cloves of garlic, thinly sliced
3 each guajillo chiles
¼ cup extra virgin olive oil
½ cup fire roasted tomatoes, pureed
1 tablespoon sherry vinegar
2 teaspoon smoked paprika
2 tablespoon chopped parsley
Freshly squeezed lemon juice to taste
Kosher salt and pepper to taste
In a sauté pan over medium high heat, heat olive oil until hot. Add garlic and chiles and cook until fragrant, but being careful not to burn. Add shrimp and smoked paprika. Season with salt and pepper. Sauté briefly. Add the pureed tomatoes, sherry vinegar, and parsley. Finish with freshly squeezed lemon juice and additional salt and pepper to taste. Serve with toasted baguette or other warm crusty bread.
Capellini Pasta with Little Neck Clams by Bistro 24
2 portions
16 Little Neck Clams (scrubbed and iced)
2 T Olive oil
3 oz. White wine
1 T Sliced garlic
1 Lemon, whole
3 T Parsley, chopped)
3 T Basil chiffonade
1 can Chopped clams with broth
1/2 pound Capellini Pasta
2 oz. Butter
Blanch pasta in salted boiling water, cook to al dente. In a large sauté pan render garlic in olive oil and butter. Add wine and reduce. Add chopped clams and whole clams, season, squeeze lemon cover and cook. Cook till Clams open. Add in hot pasta toss and plate. Garnish with Fresh basil and parsley.
Chef Eddie's Braised Beef Short Ribs by Eddie's House
Serves 4
28 Ounces Boneless Short Rib
½ Cup Flour
2 Carrots, Chopped
2 Medium Onions, Chopped
4 Stalks Celery, Chopped
6 Cloves Garlic, Chopped
¼ Cup Olive Oil
1 Small Bunch Thyme
1 Cup Cranberry Juice
1 Cup Red Wine
2 Cups Beef Stock
Salt and pepper to taste
Dust ribs with flours, heat roasting pan and oil until hot, searing all sides of beef until brown, then add remaining ingredients, bring to a boil, remove from heat, cover roasting pan, with plastic wrap and aluminum foil, place in oven at 350 degrees and bake for 2 hours.