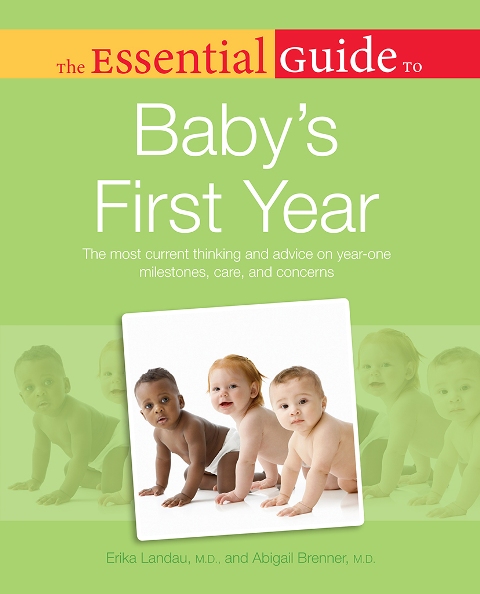 As a new parent, thinking about baby food can be super overwhelming. Is the pre-made stuff good enough for my kiddo? Should I make my own baby food? Do I have the time to do that? What will my baby prefer? Even if you might not have the time to make your child's food 24/7, "The Essential Guide to Baby's First Year" offers pages of easy, inexpensive–and delish!–baby food recipes that your little booger is sure to enjoy. Plus, you don't need any kitchen equipment you don't already own (a small pot, a small steamer and a blender). Here are a few recipes to try:
Baby's First Chicken Soup
1/2 cup cooked and pureed chicken (or turkey)
1 celery stalk
1 potato
1 carrot
1 zucchini
A few pieces of dill
4 cups water
Peel and chop vegetables. Cook until they are soft. Add the meat. Put them in the blender or food processor; mix until pureed.
Veggie Stew
1 onion, cut into small slices
1 tomato, sliced
1 bell pepper, seeded and sliced
1/2 tsp. olive oil
Pinch of dill, parsley and thyme
Heat the oil in a pan and add the onion. Let it lightly brown. Add the bell pepper and tomato. Add dill, parsley, and thyme. Cook until all vegetables are soft. For variation, cook brown rice or potatoes and mix them with the vegetables.
Vegetarian-Vegan Fruit Compote
1 apple, cored and sliced
1 plum, sliced
1 peach, peeled and sliced
1 slice of lemon
Pinch of cinnamon
2 tsp. brown sugar
2 cups water
Boil water with the sugar and cinnamon. Add the fruits and cook until they are soft. Squeeze the slice of lemon over the mixture. Cool. Serve as is or on top of a waffle or pancake.