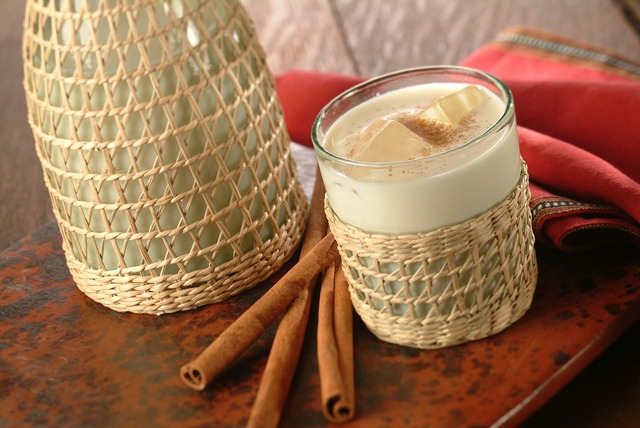 Whether you are attending one of the happenin' Cinco de Mayo shindigs around town this weekend or hosting your own party at home, delectable and festive cocktails with undoubtedly be in the mix. For those at-home get-togethers, here are a few tempting cocktail recipes to whet your whistle. (There's even one for those of you who are not tequila fans.)
After School Special
Courtesy of Fox Restaurant Concepts' Master Mixologist, Mat Snapp
.5 ounce lime juice
0.75 ounce ginger agave syrup
1 ounce raspberry tea-infused tequila
Shake with shail or crushed ice to dilute. Rim with smoked sea salt. Top with Modelo; serve with can. Lime wheel.
Iced Horchata (pictured)
4 cups hot water
1 cup white rice, rinsed and drained
2 cinnamon sticks
1 cup granulated sugar
1 cup Coffee-mate Natural Bliss Sweet Cream
4 ounces spiced rum (optional)
Ice cubes
Ground cinnamon
Combine water, rice and cinnamon sticks in large bowl; cool. Cover; refrigerate for 2 hours or overnight. Remove cinnamon sticks. Spoon rice into food processor or blender (reserve soaking liquid); cover. Process on high for 3 to 4 minutes. Add reserved soaking liquid and sugar; process for 2 minutes. Strain mixture through a cheesecloth or fine sieve into a pitcher, pressing the rice solids until only a dry paste remains; discard paste. Stir Coffee-mate and rum into mixture. Serve over ice. Sprinkle with cinnamon.