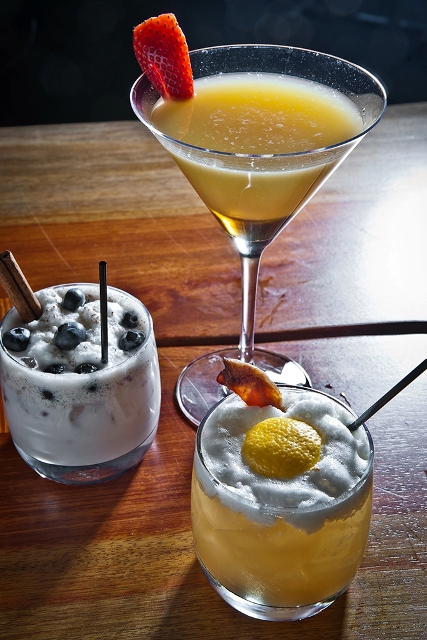 Stone Rose Lounge at Fairmont Scottsdale Princess, one of the Valley's top hot spots, has unveiled several new cocktails that make you realize that, yes, breakfast is the most important meal of the day–it even makes cocktails more delicious. Among the new sippin' line up at Stone Rose Lounge is the Blueberry Scone, Waffles & Maple Syrup and Bacon & Eggs cocktails. Perhaps these recipes would be a fun way to punch up your Easter Sunday brunch?
Blueberry Scone
1 ½ oz Stoli Vanil
½ oz Baily's Irish Crème
½ oz Half and Half
20 Blueberries
Splash Simple Syrup
Cinnamon powder and stick
Build in shaker: Muddle 15 blueberries. Add splash simple syrup. Add Stoli Vanil, Baily's, Half and Half and dash of cinnamon. Add one scoop of ice and add five blueberries. Shake. Pour into Rocks glass. Garnish: one cinnamon stick, blueberries and dash of cinnamon.
Waffle with Maple Syrup
1 3/4 oz Vodka
1/4 oz Butterscotch
3 to 4 oz Orange Juice
Maple Syrup
Coat inside of martini glass with maple syrup. Build in shaker: Vodka, butterscotch and orange juice. Shake and strain into martini glass. Maple syrup will settle at the bottom of the glass.
Bacon and Eggs
Muddle (very well) in shaker: one piece of cooked smoked bacon and top with ice. Add two ounces of Woodford Reserve (or bacon-flavored bourbon) and 3/4 ounces of real maple syrup. Shake vigorously and strain in to rocks glass with new ice. On side, whip 1.5 ounces of liquid egg whites and half ounce simple syrup together until frothy. Pour egg whites on top (they should float like head on beer). Garnish with half a slice of bacon sitting on top.