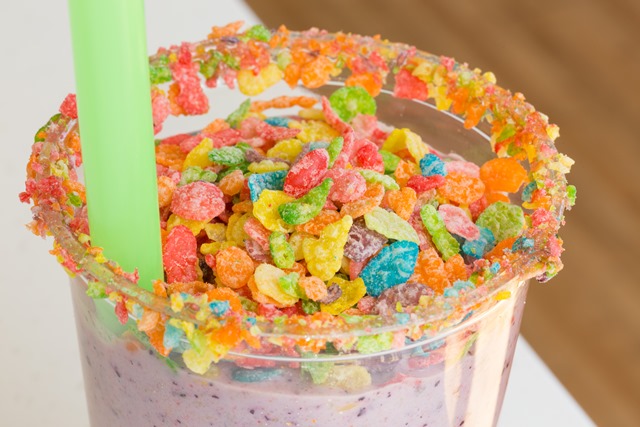 Now open in the Biltmore Corridor, Scramble offers one of the most colorful breakfast concoctions: the Fruity Pebbles Cereal Killer Smoothie. Though we recommend popping in Scramble soon for a decadent brizza (the AZ Sunrise breakfast pizza is a favorite with turkey, avocado, spinach and Monterey Jack cheese), whipping up one of these rainbow-hued smoothies is the perfect summertime activity for kiddos.
Fruity Pebbles Cereal Killer Smoothie
3/4 C (1/2 C blended, ¼ C garnish) Fruity Pebbles
¼ C Yogurt
¼ C Monin Berry Mix
½ C Half & Half
½ C Blueberries
16 oz. Ice
Add cereal, yogurt, blueberries and half & half to blender.
Fill with 16-oz. cup of ice and blend on high for one minute.
Pour ingredients into a 16-oz. hard plastic cup.
Garnish with ¼ cup cereal for a crushed cereal rim.