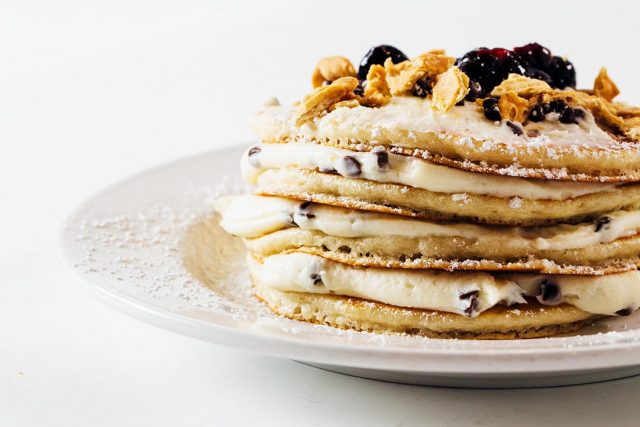 The mom in your life deserves more than soggy bacon or cold cereal this Mother's Day. Prep these cannoli pancakes from Hash Kitchen to show her how sweet on her you really are.
Cannoli Cream:
1 Ricotta tub
4 C Powdered sugar
2 C Chocolate chips
2 T Lemon peel
2 T Vanilla

Buttermilk Pancakes:
1 1/2 C All-purpose flour
2 tsp. Baking powder
1/2 tsp. Baking soda
1 T Sugar
1/4 tsp. Salt
1 1/2 C Buttermilk
1 Large egg
2 T Unsalted butter, melted
Cream: Drain the water from ricotta. Mix in all ingredients and add sugar to taste. Mix well. Pancakes: In a large bowl, whisk together the flour, baking powder, baking soda, sugar and salt. In a separate medium bowl, whisk together the buttermilk, egg and melted butter. Stir the wet ingredients into the dry ingredients until combined. (There should be lumps in the batter.) Place a nonstick pan or griddle over medium-low heat. Grease it with oil. Drop dollops of the batter onto the hot pan. Once bubbles form, flip the pancakes once and continue cooking one to two more minutes until the pancakes are cooked through. Layer cannoli filling between cooked pancakes (two pancakes for a half stack or four for a full stack). Garnish with maraschino cherries and crushed cannoli shells, if desired. Serve immediately with maple syrup or other toppings.