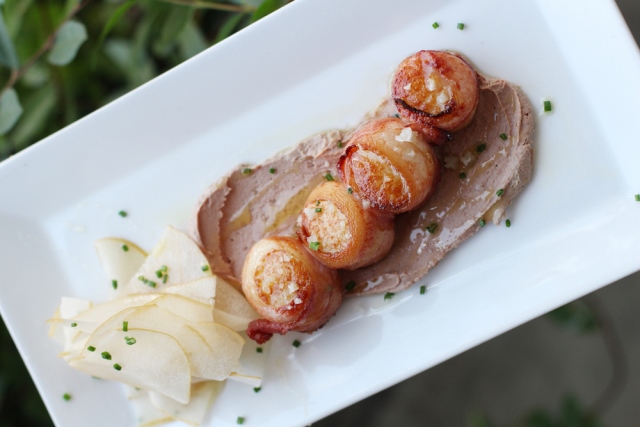 With a slew of special occasions coming up (St. Patty's Day, Easter, Mother's Day), we're sure you're searching your recipe archives for a dish to impress with. Look no further. Begging to be enjoyed outdoors this spring, try this bacon-wrapped sea scallop recipe, paired with an Asian pear salad, from Chef Brady Cohen at Salty Sow.
Asian Pear Salad
1/2 Asian pear ripe
1 teaspoon white truffle honey
Bacon Wrapped Sea Scallops
4 small sea scallops abductor muscle removed
2 slice high quality bacon
1 tablespoon chicken liver mousse
coarse sea salt for garnish
chopped chives for garnish
salt to taste
pepper to taste
olive oil for cooking
olive oil for finishing
Asian Pear Salad
Shave the Asian pear paper thin.
Drizzle with white truffle honey.
Bacon Wrapped Sea Scallops
Wrap scallops with bacon, it should take a ½ piece of bacon per scallop.
Season scallops with salt and pepper.
Heat a skillet or griddle over high heat.
When pan is very hot, drizzle seasoned scallops with some olive oil and place in pan.
Sear for 3 minutes and turn, sear for 3 minutes more (scallops should be medium).
To serve, smear chicken liver mousse on plate, place scallops on top of mousse, and place pear salad at the top of the plate.
Drizzle with finishing olive oil, course gray sea salt and chives.