In honor of National Nutrition Month (March), Chef Frank Caputo of Cancer Treatment Centers of America at Western Regional Medical Center and Hope Springs Organic Farm will provide a fresh, nutrition-packed recipe every week of the month. First up, a delicious side dish.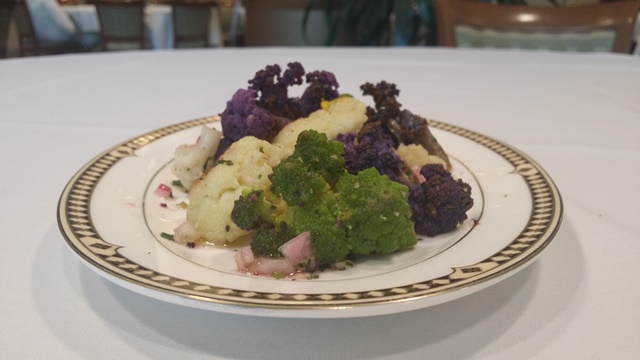 Cauliflower with Sweet Onion and Herb Dressing
Yields 8 servings
Portion: ½ cup
Ingredients:
¼ cup extra virgin olive oil
2 oz white balsamic vinegar
2 lb fresh cauliflower florets
1 oz fresh, sliced (thin) green onions
3 oz fresh, Julienne red onion
1 tbsp fresh lemon zest
2 tbsp chopped herbs:
1/4 cup fresh basil
1/4 cup Italian parsley (chopped)
2 tsp. fresh thyme
2 tsp. fresh leaf oregano
2 tsp. fresh chives
2 tsp. fresh tarragon
Instructions:
Preheat oven to 350 degrees.
Cut all cauliflower and red onions into bite-sized pieces.
Combine together cauliflower, green and red onions, olive oil and vinegar.
Cook until vegetables are tender (about 15-20 minutes).
Remove from oven, place in serving bowl toss with lemon zest and herbs.