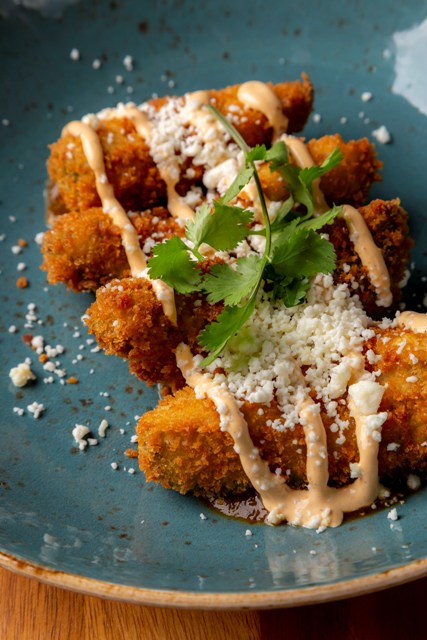 Macayo's Mexican Restaurants has released its first-ever Macayo Recipe Box, a collection of recipes from appetizers to cocktails, after high demand from customers. (The restaurant will also host a series of cooking classes and a cocktail workshop.)
The box features 72 of the restaurant's traditional family recipes including the popular Spinach Con Queso, Green Chile Pork Stew, Cilantro Lime Chicken Salad and more. The Macayo Recipe Box is $35 plus tax with $5 of every sale being donated to Careers through Culinary Arts Program (C-CAP). The Macayo Recipe Box is a custom-made stained wooden box emblazoned with the Macayo logo and is now available for purchase in the restaurants and online.
To celebrate the launch of the new recipe box–and to offer a taste of what to expect in the recipe box–Macayo's has shared its fried avocado recipe.
Fried Avocado
Avocado Slices
Salt
Black Pepper
Flour
Buttermilk
Breadcrumbs
Lightly season avocado slices with salt and pepper
Toss each avocado slice in flour, shake off excess, then dip into buttermilk. Repeat one more time with each avocado slice
Dip each slice in breadcrumbs and cover completely
Place breaded avocado slices into fryer and cook approximately 2 minutes, until golden brown
Remove from fryer and drain well
Best to serve with Pepe's Picante Salsa