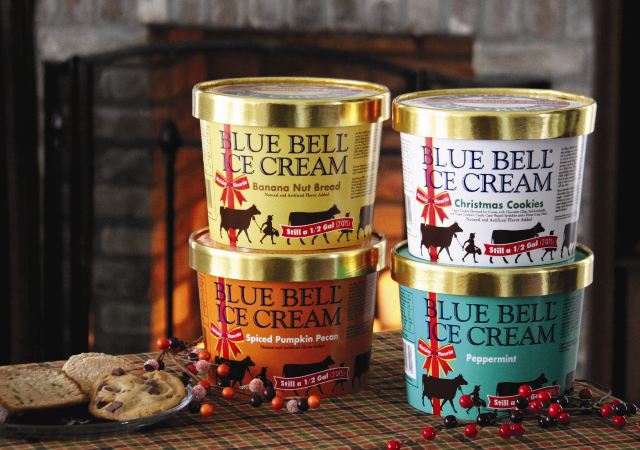 Even if there weren't presents to unwrap, Christmas trees to deck and greeting cards in the mail, I would still be head over heels for this time of year. Want to know why? Hot cocoa, candy canes, sugar cookies and pumpkin pie–to name of the few wonderfully delicious reasons for the season. One of the top ice cream brands, Blue Bell, is celebrating this special time of year with four new festive limited edition ice cream flavors.
Blue Bell's Banana Nut Bread Ice Cream and Christmas Cookies Ice Cream are brand new for 2011, and though each bite is frosty, the flavors bring up warm, cozy thoughts. Spiced Pumpkin Pecan Ice Cream, which was introduced in 2010, has become a Blue Bell favorite, as is the much-loved Peppermint Ice Cream.
For an extra special treat, Blue Bell is sharing two of its deletable holiday ice cream recipes (one for the kiddos and one for Mom and Dad):
Spiced Pumpkin Pecan Parfait
3 small scoops Blue Bell Spiced Pumpkin Pecan Ice Cream (approximately 1/3 cup each)
1 pecan shortbread cookie, crushed
1 T. chopped roasted salted pecans
1 ½ T. caramel dessert sauce
1 dollop frozen whipped topping, thawed
Place one scoop of ice cream in a tall parfait glass. Top with ½ the cookie crumbs, ½ the pecan crumbs and 1/3 the caramel sauce. Repeat the layers. Add the last scoop of ice cream. Drizzle with remaining caramel sauce. Add a dollop of whipped topping and serve immediately. Makes one serving. Note: to make this taste like a pumpkin pie, use crumbled baked pie dough instead of the shortbread cookie.
Egg Nog Shake
3 egg yolks
1/3 cup sugar
2 cups milk
1/3 teaspoon vanilla extract
¼ cup cognac
1/3 cup rum
¾ teaspoon nutmeg
3 egg whites
1 pint Blue Bell French Vanilla Ice Cream
Beat together the egg yolks and sugar. Stir the mixture into the milk. Add the vanilla extract, cognac, rum and ½ teaspoon of the nutmeg, stirring. Beat the egg whites until stiff, and fold into the milk mixture. Spoon the ice cream into a blender and add the mixture. Blend until smooth. Pour immediately into chilled glass punch cups and serve with the rest of the nutmeg sprinkled on top.
Banana Nut Bread Ice Cream, Christmas Cookies Ice Cream, Spiced Pumpkin Pecan Ice Cream and Peppermint Ice Cream flavors are available for a limited time at most Arizona grocery stores.