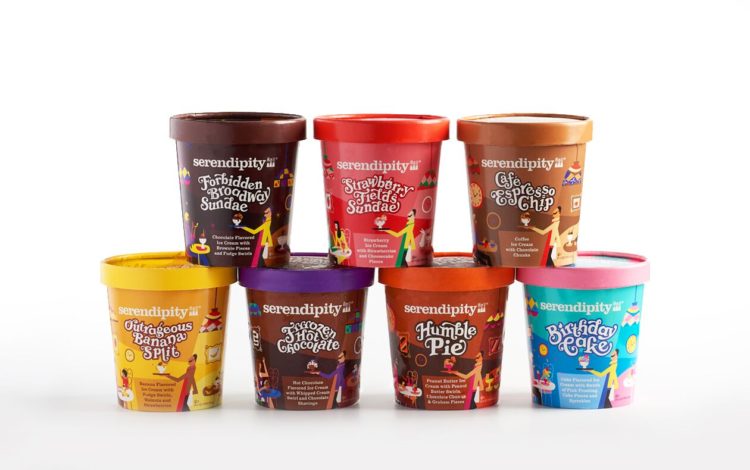 If you ask us, Serendipity is as synonymous with New York City as hot dogs and soft pretzels. Thankfully, the famous NYC restaurant of 65 years–known for its over-the-top frozen desserts–is now available anywhere and everywhere with the launch of Serendipity Brands ice cream pints and sundaes.
The offerings are based on the famous recipes of Serendipity 3 restaurants, so those with a sweet tooth can have a taste of the Big Apple legend just about anywhere. Serendipity currently offers Frrrozen Hot Chocolate, Outrageous Banana Split, Strawberry Fields Sundae, Forbidden Broadway Sundae, Humble Pie and Vanilla Vogue pints and Serendipity Sundae cups that are ready-to-eat sundaes in flavors such as Frrrozen Hot Chocolate and Birthday Cake, along with two new flavors for Serendipity, Salted Caramel and Cookie Dough.
We were recently sent a few samples to give a go, with Humble Pie being tops; the combo of peanut butter ice cream paired with swirls of PB and large chocolate chunks is a no-fail favorite. Strawberry Fields Sundae featuring sizable pieces of creamy, rich cheesecake and Frrrozen Hot Chocolate packed with marshmallow swirls being close runners-up.
Serendipity Brands plans to launch more flavors and products this year. The current flavor lineup is available at 7-11, Walgreens and CVS.