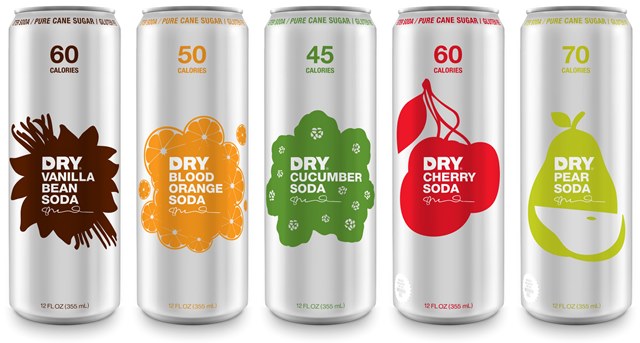 During this week's Grocery Great segment, guest writer, ForXx, reviews Dry Soda.
At first sip of a Dry Soda selection, you might think of 7-Up. But, then, a subtle hint of ripe pear sneaks up on your tongue followed by a none-abrasive carbonation. In two words, Dry Soda is simply complex. While it's a tantalizing play on words, the taste isn't bad.
Dry Soda comes in 11 distinctive flavors: Blood Orange, Ginger, Vanilla Bean, Apple, Cherry, Rhubarb, Lavender, Juniper Berry, Cucumber, Wild Lime and Pear. I was able to taste four of these wonderful flavors: Pear, Apple, Ginger and Cherry. Although I didn't have a particular favorite, I liked the Apple but preferred the Pear. Dry Soda Co. describes the Pear as being refreshingly bright with the complex flavor of a ripe pear. I found it smooth, cooling and welcomed the flavor to bounce off my taste buds like a kid on a trampoline.
I can't say it's like any soda I've ever tasted before with sugar and carbonated water. Dry Soda is a guiltless pleasure with less sugar, fewer calories and only four natural ingredients. (Just four!) It has class and an invigorating tingle that lingers on your tongue. It's so different you have to try all 11 flavors to appreciate the brand. Soda of any kind is not part of my regular diet at all. In fact, I run from the syrupy disasters. Dry Soda, however, just may be a staple in my pantry. You can buy Dry Soda at any BevMo, Whole Foods or Sprouts. Coming to your local Fry's soon.