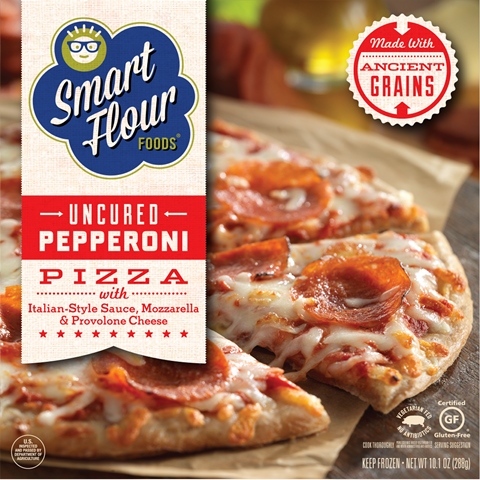 Now that winter break and the holidays are over, so are the leisurely days that call for making highly involved recipes with lots of ingredients with family and friends. In addition to school and work being in session, so is soccer and dance practice, late-nights at the office and more. But instead of rushing through a drive-thru to fill your family's bellies, Smart Flour Foods has an easy, quick alternative with its ancient-grain pizza.
Smart Flour Foods' ancient-grain pizza is made with sorghum, amaranth and teff so it is higher in protein, vitamins and minerals and is topped with real mozzarella and provolone cheese that is free of hormones and hand-selected, uncured, vegetarian-fed meat that is free of antibiotics, nitrites and nitrates. The pizzas are Non-GMO Project Verified, vegan, soy free, dairy free and Kosher, as well. In addition to being more nutritious and filling than most pizzas, you can simply pop them in the oven for a few minutes–and you're done. Dinner is on the table on those super-busy weeknights. If you have a little more time to spare and feel like getting creative, Smart Flour Foods also offers plain crusts so you can dress them how you choose.
For the kiddos, the Uncured Pepperoni Pizza will be a huge hit. This is the brand's most popular pizza, and instead of greasy slices of pepperoni filled with nitrates, this offers vegetarian-fed pork that is a little salty and a little spicy and very delicious. Moms and dads will enjoy the Garden Margherita Pizza. Topped with juicy tomatoes and fresh basil, it is fresh and flavorful. The gluten-free crusts will also be popular with the entire family as they get kids in on the cooking action (set up a bar of ingredients to choose from) while parents can ensure their little ones are getting healthy ingredients.
The SRP for the pizza is $6.99 to $7.99, and the SRP for the crust, which comes two to a package, is $4.99 to $5.99.