When it comes to holiday gift gifting, something delicious it always a safe bet. Even those who don't usually indulge in delicious calorie-ridden treasures during the majority of the year allow themselves something a bit decadent come holiday time. So, I took it upon myself to provide you with some awesome eats–which may involve chocolate, cookies or both!– and kitchen supplies to make your holiday gift gifting just a wee bit easier.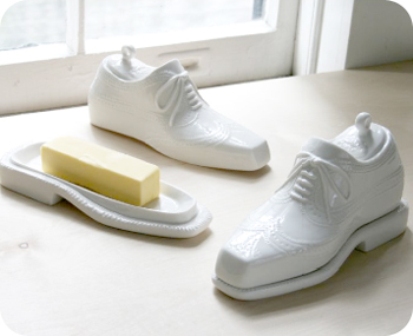 Jonathan Adler Shoe Butter Dish I can always count on Jonathan Adler to add a little quirk to my home. (I received his pear dish as a wedding gift, and it is still one of my favorite kitchen accessories.) I just adore this highly unexpected butter dish. I just might add this to my own wish list. $64. www.fredflare.com.
Rubik's Cruet Salt and Pepper Mills My best friend loves a good Rubik's cube (as a math teacher, she loves teasing her brainwaves). I think this too-cute salt and pepper mills set will not only season her eats, but might trick a few dinner guests. $17 to $34. www.iloveuma.com.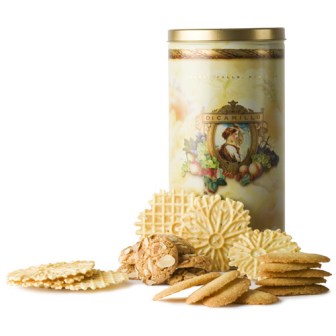 Di Camillo Trio Sampler These Italian cookies remind me of my grandma–she always loved to serve them around the holidays. If I don't purchase them as a gift for an aunt or uncle, I might just want them around to snack on during the Christmas festivities. $36. www.deandeluca.com.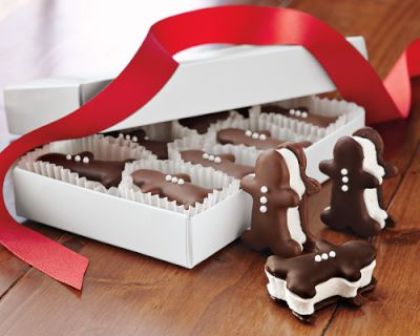 Gingerbread Boys S'Mores Adorable! I think my little nephew would gobble up these gourmet marshmallow-stuffed take on two holiday favorites: s'mores and gingerbread men. And I'll cross my fingers that he shares with his aunt! $25. www.williams-sonoma.com.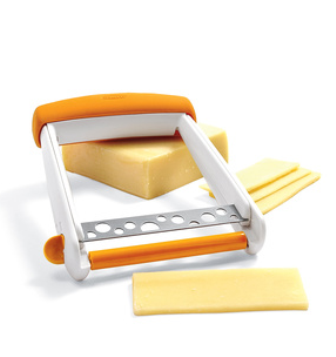 Chef'n Cheese Slicester This genius kitchen goodie just screams hostess gift (maybe pair it with a lovely wedge of cheese). The dishwasher-safe gadget allows you to slice cheese for a sandwich or an appetizer spread. We like the price, too. $10. www.surlatable.com.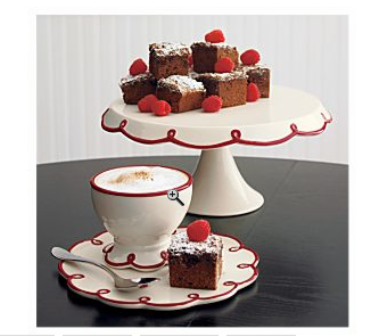 Laurie Cake Pedestal Every good hostess should have a cake pedestal in her entertaining arsenal. I love this seasonal red-and-white one. My mom would love it, and, for that price, I might get myself a matching one. $30. www.crateandbarrel.com.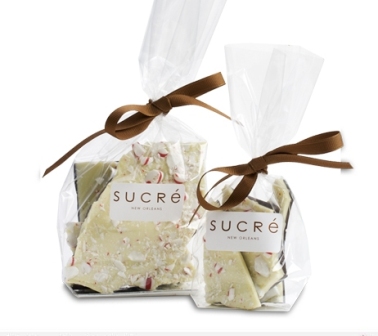 Candy Cane Bark Nothing is more seasonal than peppermint bark. I'd love to tote this along to a holiday party or stuff it in my hubby's stocking for a sweet Christmas-morning surprise. $5 for 2.5 ounces. www.shopsucre.com.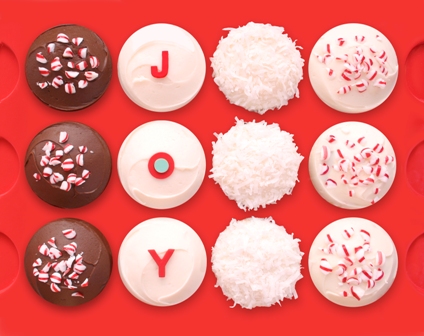 JOY Box Make your house guests super happy by surprising them with some seasonal cupcakes. Flavors include red velvet, coconut (my personal favorite), chocolate peppermint and vanilla peppermint. The selection is available through Dec. 24. www.sprinkles.com.