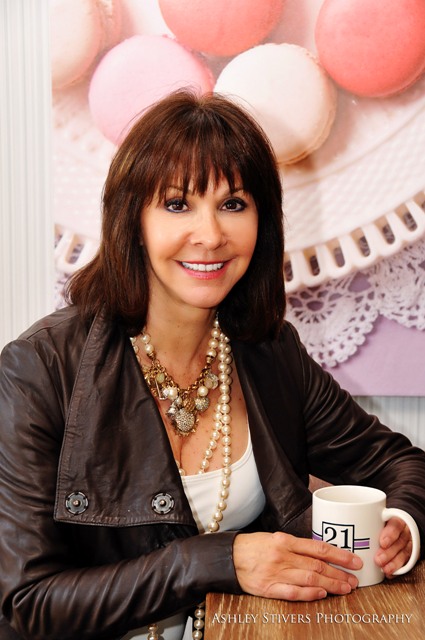 Unless you've been living under a rock, you know that the world is swooning over delicate, colorful Parisian macarons (pronounced: mak'rons and not to be confused with American macaroons, which are a coconut cookie).  Though beautiful and delicious, macrons can be very tricky from the home baker. Lucky, these colorful confections have been mastered by owner and baker of Scottsdale-based 21 Cakes, Linda Schneider, after over a year of research, practice and perfecting. Schneider follows the traditional French method of making macarons which is a three-day long process. Though it is up to you to fine a recipe that is right for you, Schneider shares several helpful hints for making bakery-worthy macarons.
First, Know its History – A Love Story
The macaron was brought to France from Italy by Catherine de-Medici upon marrying King Henry II. In the late 19th Century, a famous owner and pastry chef of the very popular French patisserie Ladurée decided to fill macarons with chocolate ganache, where they previously had no filling, and from there macarons became all the rage in Paris.
Have Patience and Stay Committed
Macarons have very simple ingredients and basic recipe, but the tricky part is in the technique. If you are at the point where you want to make macarons, you have likely baked a lot and perhaps have a favorite chef that you follow or a favorite cookbook. I recommend finding a recipe from one of these trusted sources.
Next, practice, practice, practice. There is not one magic method to making macarons; you just have to see how it works in your kitchen. If you are determined to get them perfect, you will have to adjust any recipe you select to your environment – from the time of year to whether you live in dry climate like Arizona or humid climate like Pennsylvania where I grew up.
Before You Begin
All of your ingredients should be at room temperature. For best results, use the traditional French method of "old" eggs. It is also helpful to have a really good quality copper bowl to whisk the egg whites. You can do it in a stainless steel bowl, but you may have more success in a copper bowl.
Tips and Trouble Shooting
The most familiar characteristics of a macaron is the "skin," its thin crispy outer shell, and "feet," the lacy bottom-edge of the cookie which develops during baking. If you do not have "feet," you probably did not let the cookie dry enough before baking. I let my macarons dry for at least an hour even though most recipes only require 30 minutes.
If the skin is cracking or browning during the baking process, you will have to adjust your baking time and/or heat based on your oven; it is absolute trial and error. The size of the macaron is a determining factor too since traditional Parisian macarons are about the size of a quarter and take less time.
A critical step not to skip is to let the macarons cool until they cleanly come off the baking sheet. If they still do not come off the sheet, they are likely under baked which, in this case, simply add more time next batch.
When you are finished, you can usually tell if something went wrong by its appearance. It will probably taste good, but macarons are all about presentation.
Take Creative License
I make macarons because they are a personal favorite dessert of mine. I love them. They are beautiful, delicate and colorful. You can take advantage of your creative side by creating your own flavors and fillings.
Popular flavors 21 Cakes offers include pistachio, raspberry, pineapple, chocolate and rose. You can make virtually any flavor your heart desires from more complex fillings with ground pistachios to simple ones with jams or chocolate. Be careful not to overfill, though.