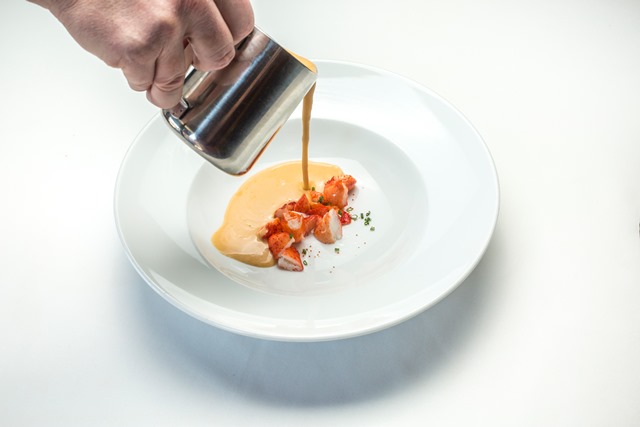 Foodie news roundup for the week of April 30.
Gertrude's at Desert Botanical Garden will be hosting two longtime friends at their summer al fresco wine pairing dinner featuring Carl Seacat, Seacat Gardens, and Sam Pillsbury, Pillsbury Wine Company, on May 5, from 6 to 8:30 p.m.  Gertrude's talented culinary team will create a chef's choice menu that showcases Seacat's seasonal produce, while pairing perfectly with Pillsbury's Arizona wines. Meet the chef, winemaker and grower at this unique event. The dinner is $75 plus tip and tax per person. A credit card is required to reserve a space. Call 480.719.8600 for reservations.
Phoenix-area Dunkin' Donuts locations are launching a pay it forward-inspired program called "Sip a Cup, Share a Cup." Now through May 27 (or while supplies last), all guests who purchase any size coffee at participating Dunkin' Donuts Restaurants will receive a special Free Coffee Card. Guests are encouraged to pass the card along to "pay it forward," covering the cost of someone's next coffee.
Ocean Prime at City North has introduced several flavorful additions to its dinner menus, including jumbo lump crab cake, lobster bisque (pictured), surf and turf (an 8-oz. filet with butter-poached lobster, gouda potato cake, chili-seared spinach, cabernet truffle reduction, and béarnaise sauce), foie gras Rossini and more.
Miracle Mile Day is on Thursday, May 10! To celebrate, 20 percent of the proceeds from their sales on May 10 will go to Feeding Matters, a local nonprofit dedicated to raising awareness of pediatric feeding struggles. Also on that day, from 11 a.m. to 8 p.m. every hour, there will be a $100 gift card to Miracle Mile Deli given away to someone. People can stop in all day to register to win. Even better, if you're 69-years-old, show a valid ID to get one 69 cent sandwich in honor of the deli's 69th anniversary.
To celebrate the opening of Farm & Craft at The Colony, the health-focused restaurant is offering 25-cent cold brew from 8 to 10 a.m., starting tomorrow through the entire month of May. All you have to do is mention the deal. No other purchase is required.
The newly opened Dorian in Scottsdale is now offering a Saturday brunch from 11 a.m. to 3 p.m.  The menu features an array of breakfast and lunch items like steak or salmon and eggs, eggs Benedict, lemon cakes pancakes, bread pudding french toast, lox bruschetta, a blue cheese leek quiche, their signature bruschetta, a house charcuterie board and salads. Each entrée order will come with a complimentary glass of Champagne.
Lagunitas Brew-Shetta Dinner at Sorso Wine Room will spotlight Sorso's signature bruschetta paired with five beers from Lagunitas Brewing Co. The dinner is $40 plus tip and tax. Space limited. Reserve your space at drink@sorsowineroom.com.
Teachers are invited to visit Organ Stop Pizza in Mesa between May 7 and 11 during regular posted business hours only (5 to 9 p.m.) and get a voucher for a free pizza. Any size pizza, no limit on toppings. Value up to $25. Must be an employed Arizona K-12 teacher and show valid school ID. Voucher may be redeemed immediately or on a future visit and expires on August 31.
For more fab foodie news, become a fan on Facebook and a follower in Twitter @AZFoothillsfood.