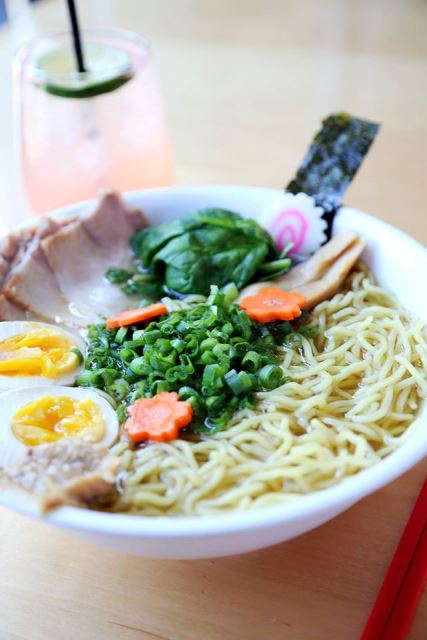 Foodie news roundup for the week of March 16.
On Sunday, March 22, from 11 a.m. to 3 p.m., Eight's Check, Please! Arizona Festival transforms CityScape in Downtown Phoenix into a exploration of the TV show-inspired lineup of independently owned Arizona restaurants. In addition to cooking demos and discussion panels, guests can enjoy eats from the likes of Tarbell's, The Salt Cellar, Cowboy Ciao, Durant's, Rancho Pinot and many more. For tickets, visit http://www.azpbs.org/checkplease/festival/.
Jorge's Chicken & Waffles is celebrating International Waffle Day on Wednesday, March 25, by offering one free waffle to the first 100 people who come through their doors that day. Locally owned and operated, Jorge's Chicken & Waffles recently opened in Tempe.  Doors open at 8 a.m. on March 25 and it's first come first serve for those first 100 free waffles. Glendale's new Crave Waffle Sandwich Creations is also celebrating by giving guests a free waffle stack with any purchase.
Chef Harold Marmulstein of Salty Sow is being welcomed back to cook at the James Beard House in New York City on Thursday, May 7 for the second year in a row. Beginning March 18, the neighborhood favorite will offer James Beard House menu previews in Phoenix so customers get a taste of what's to come in New York City. The five-course menu previews are priced at $75 per person and will take place at 6 p.m. on March 18, April 1 and April 15. To make reservations, call 602.795.9463.
With the official first day of spring on March 20, Fogo de Chão Brazilian Steakhouse is celebrating the season of renewal by introducing new menu items. Fogo's culinary team created light and healthy salads (sugar snap and purple cabbage salad and watermelon, feta and cucumber salad) and a refreshing cocktail (cucumber smash) inspired by the abundance of seasonal produce.
New food truck alert: Frites Street, a brand-new, gourmet Belgian fry food truck hit the road yesterday. Frites Street will serve up some of the finest fries available anywhere on wheels, as well as a roster of golden brown and delicious entrees and revolving specials. Vegan and gluten-free options will be available, but it's the authentic process the potatoes go through–a 12-hour process–that are both the stars and the driving force behind this food truck.
Chefs Joshua Hebert, Jared Lupin and Rebecca Noorda have joined forces for the ultimate in ramen experiences. For two special evenings (the first, March 24 and the second in early May TBD), these ramen-loving chefs will guest chef at each other's restaurants. Ramen Swap One (pictured): 5 to 9 p.m. at Posh in Scottsdale. Walk-ins only. This feast features an a la carte menu including four styles of ramen, Oknomiyaki and various Japanese beverages.
Arizona's largest BBQ event, The Great American Barbeque & Beer Festival, is set to return to downtown Chandler on March 21 from noon to 10 p.m. Festival highlights include a country music lineup featuring the Eli Young Band, 60 BBQ pitmasters, a kids' play area, eating contests and craft beer from SanTan Brewing Company. Kids 12 and under admitted for free. General admission tickets are also available online for $12 each at www.chandlerbbq.com and tickets will be $15 each at the gate day of.
For more fab foodie news, become a fan on Facebook, follow us on Twitter @AZFoothillsfood and check us out on Instagram.