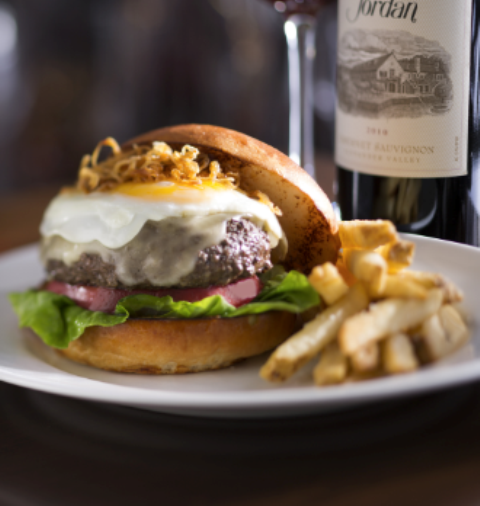 Foodie news roundup for the week of Oct. 27.
Super-cute Halloween recipe: spooky tofu cake pops.
Grocery Great: dcuisine.
On Nov. 6, guests at the C-CAP Harvest Moon Dinner will enjoy a three-course dinner of local, seasonal cuisine prepared by Arizona's top chefs and C-CAP Alumni with local wine pairings. Cocktail hour will feature cocktails created by AZ Culinary Hall of Fame Mixologist Micah Olson of Crudo & Bar Crudo, with appetizers prepared by C-CAP AZ teachers and students.  The event takes place at PHX Renews Property from 5:30 to 8:30 p.m. with featured chefs Jared Porter, Clever Koi; Matt Fenton, Tarbell's; and Therese Hills, My Sweet Blessings Bakery. Tickets are $150 at azharvest.bpt.me.
Chef Kevin Binkley's downtown Phoenix restaurant, Bink's Midtown, will celebrate another gourmet season with a special four-course event. The Melville Wine Dinner will take place on Thursday, Nov. 6, at 6:30 p.m. The event is $85 per person, plus tax and gratuity, and will feature wintry eats and award-winning, California wines. For reservations, call 602.388.4874,
The eighth annual Free Cheeseburger Day at Joe's Farm Grill is on Wednesday, Nov, 5, from 10 a.m. to 3 p.m. The free meal includes one cheeseburger, French fries, fixings, soda or water (one per person and kids receive a kids portion). No other food items will be available that day.
The Refuge, a coffee shop and wine bar in Central Phoenix, is having a Halloween party Oct. 31. Come in your best costume and you'll be entered to win prizes. The evening will also feature Friday Night Trivia starting at 7 p.m. and plenty of food and drink specials. (Happy Hour goes from 3 p.m. to close.)
Scramble – A Breakfast Joint in Phoenix and Scottsdale announces the addition of its new gluten-free friendly menu in an effort to support those with Celiac disease and gluten sensitivities. A favorite gluten-free menu item includes huevos rancheros using gluten-free blue corn and quinoa tortilla chips.
Get your motor running for Chef Anthony Serrano's next local beer dinner installment at El Palacio of Chandler Wed., Nov. 5 at 7 p.m.  This time, he's celebrating authentic Arizona by pairing a Southwest-inspired menu with fresh, local craft beer from Mother Road Brewing. The four-course menu will include salsa verde tamale pie paired with Roadside American Pale Ale. The cost is $25 per person. Reserve your spot by calling 480.802.5770.
Singh Farms in Scottsdale is now open for the season. Singh Farms is a 20-acre organic oasis famed for their all-natural composts, seeds, vegetable and herb garden starters and more.  From late fall through early summer, the farm offers the finest farm-grown, fresh-plucked produce including eggplants, habaneros and bell peppers.  Singh Farms also brings in top local purveyors including Tammie Coe Cakes, MJ Bread, and Nom de Plume Coffee Roasters.
Fogo de Chão Brazilian Steakhouse invites guests to ditch the conventional happy hour menu and experience a taste of Southern Brazil with Brazilian-inspired small plates, cocktails, wines, and beers during its just-debuted happy hour. The Fogo de Chão happy hour menu is available Monday to Friday from 4:30 p.m. to 6:30 p.m., at Fogo de Chão locations nationwide.
On Saturday, Nov. 1, The Wigwam's Harvest Wine Festival is taking place from 6 to 9 p.m. For $30, guests can enjoy 15 tastings and a commemorative glass along with music from True to Life band. With more than 70 wines from Sonoma, Napa, Paso Robles, Central Coast and the Pacific Northwest, guests are sure to find one that's perfect for their palette. Food and beverage sold separately with wine cases available for purchase. A portion of the proceeds will benefit Arizona Assistance in Healthcare, offering cancer patients assistance with non-medical expenses. Guests can check out the full list of participating wineries and purchase tickets here: http://www.eventbrite.com/e/wigwam-harvest-wine-festival-tickets-13361339125.
On Halloween, from open to close, all five Valley RA Sushi locations are hosting Boo Bash Halloween celebrations. The restaurants will decorate for the occasion and serve up themed Boo Bites and drink specials. Guests who come in costume may be selected to win a prize.
Bryan's Black Mountain BBQ will begin an highly anticipated expansion by adding Sunday to the daily roster, opening Tuesday through Sunday. The new hours will begin November 2 to May 31, adding to the seasonal opening and will resume summer hours in June.
The Capital Grille has brought back its "Waygu & Wine" gourmet burger (pictured) and wine pairing offer for a third year. Now through November 23, guests of The Capital Grille's lounge area can enjoy one of three featured American Wagyu beef burgers paired with an exceptional glass of wine for only $25.
For more fab foodie news, become a fan a Facebook, follow us on Twitter @AZFoothillsFood and check us out on Instagram and Pinterest.