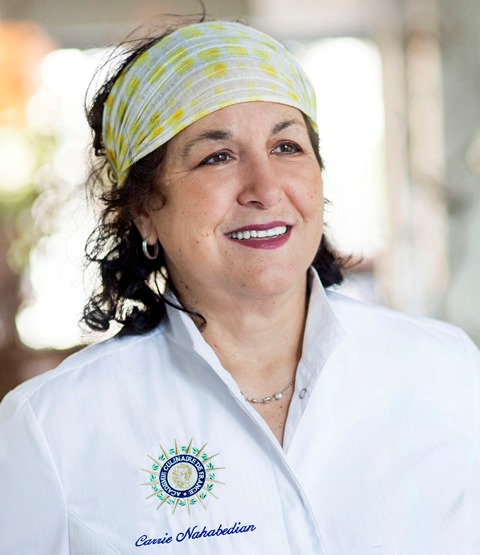 In honor of the upcoming Taste of NFL's Party with a Purpose, get to know the event's participating chefs. Check back weekly to get to know other Taste of the NFL's Party with a Purpose chefs from all over the nation!
Chef name: Carrie Nahabedian
Restaurants: NAHA and Brindille Restaurants, Chicago
Web sites: naha-chicago.com; brindille-chicago.com
Social media: Facebook: Carrie Nahabedian or NAHA Restaurant or Brindille; Twitter: @cnaha or @naha-chgo or @brindille-chgo
What inspired you to take part in the Taste of the NFL's Party with a Purpose? I was inspired to be part of the TNFL and Party with a Purpose by Susan and Drew Goss who represented the Bears and Chicago for over 15 years. They said to my cousin and business partner, Michael Nahabedian, you guys have to do this…no one are bigger sports fans than you! But, truth be told, we participate because as a chef and as restaurateurs, it is incredibly difficult to realize that so many people struggle to put food on the table for their families here in Chicago and across America.
Have you always had a passion for the culinary arts? How did you get your start? I started cooking as a teenager in high school. It was an early passion that came from my love and cooking and entertaining with a certain style from my mother Helen and my late grandmother Rose. Everyone in our family cooks and entertains with great style and flourish. I don't like shortcuts or not putting your best foot forward all the time!
Say you're hosting a Super Bowl party. What dish do you serve to guests? I love a big honey-glazed ham for a Super Bowl party. But the key to a great Super Bowl experience is to have different levels of food for each part of the day. Don't do anything mundane…don't do mindless "empty" snacks like potato chips and such. Such a waste. On the same hand, don't do a dinner that doesn't fit the focus, which of course is football! I love interesting snacks, BBQ, great sundaes and such for dessert…don't be afraid of a little outdoor BBQ even though in Chicago it's freezing and snowing on Super Bowl Sunday.
Any hints as to what you'll be dishing up at the party? This year, we are doing braised Berkshire pork shank with very soft corn polenta, wood-grilled zucchini and tropea onions.
What food bank are you representing? We represent the Greater Chicago Food Depository which feeds Chicago and Northern Illinois food banks…
What are your goals for the coming year? My goal for the coming year is to have much more balance in my work and life. 2013 and 2014 were incredibly draining with the opening of our new luxury restaurant, Brindille.
Favorite cocktail for Super Bowl: Stoyli Vodka Lemonade
Favorite sports-watching snack: white cheddar popcorn
Super Bowl memory: Watching the Chicago Bears vs. Indianapolis Colts in Miami in the pouring rain and see Devin Hester on the first play of Super Bowl XLI return the opening punt for a Chicago Bears Touchdown. It took the breath out of the stadium in 10 seconds.
 AZFoothills.com is a media partner and proud to share with you the best chefs in the U.S. and will be featured in our new publication, IN Arizona, to launch January 2015. All the best Arizona has to offer!