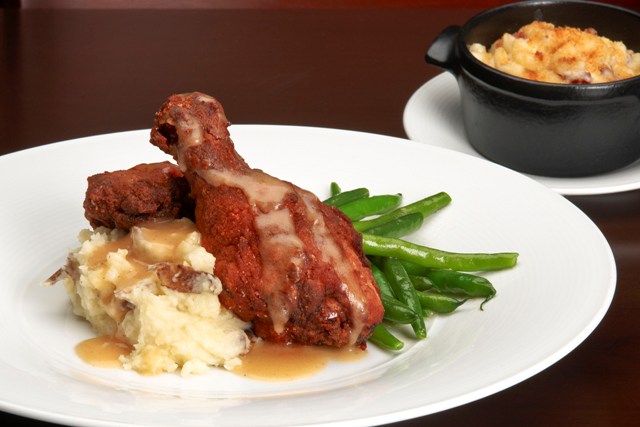 I first visited NOCA, a chic eatery at 32nd Street and Camelback Road in Phoenix, a few months ago when it first opened. I recall that my plate of seasonal vegetables was sheer perfection–yes, a plate of veggies–and that our meal was completed with a bowl of complimentary cotton candy. Yes, cotton candy (or c-squared, as my best bud calls it) at a snazzy restaurant. Now, after the announcement that NOCA is one of the semifinalists for the James Beard Foundation award for best new restaurant, I thought a more recent visit was in order.
I stopped by a Sunday evening for NOCA's Sunday Simple Supper. Here's the gist: For $35 per person, each diner gets a yummy three-course meal. For $5 more, you can even get a nice glass of white or red wine. The schedule changes weekly–NOCA has a short ribs night, an Italian night and a bistro night. However, we visited on the fried chicken night. Yes, fried chicken at a snazzy restaurant. And it was dang delish. We started with a salad of peppercorn-crusted steak, romaine, carrots, pickled onions and tomatoes. Very refreshing, and not at all over-filling. Next up, we had the fried chicken. (This is the only decision you need to make, as you have a choice of three entrees during Sunday Simple Suppers–thus the "simple." We could have also chosen the platter of veggies or a seafood dish.) The fried chicken was sided with comfort classics like mashed potatoes and gravy and Blue Lake green beans. This meal was a true treat, especially for a girl who likes to limit her fried food intake. The meat was incredibly moist, and the skin was crisped to perfection. So very good. We finished up with dessert and cappucinos. The divine apple crisp, with cinnamon stick ice cream and caramel sauce, is quite possibly the best apple-centric dessert I've ever tasted, and I believe the foam of the cappuccino could have been concocted with heavy whipping cream, as it was so thick and downright sinful. Or, in other words, perfect. Plus, it was served in a contemporary clear mug, scoring NOCA some style points.
Oh, wait. There's more. Prior to dessert we were pleasantly surprised with yet another helping of c-squared. Delicious sour apple cotton candy. If a heaping mound of fluffy green sugar doesn't make you smile, I'm not sure what will. 3118 E. Camelback Rd., Phoenix, 602.956.662, www.restaurantnoca.com.