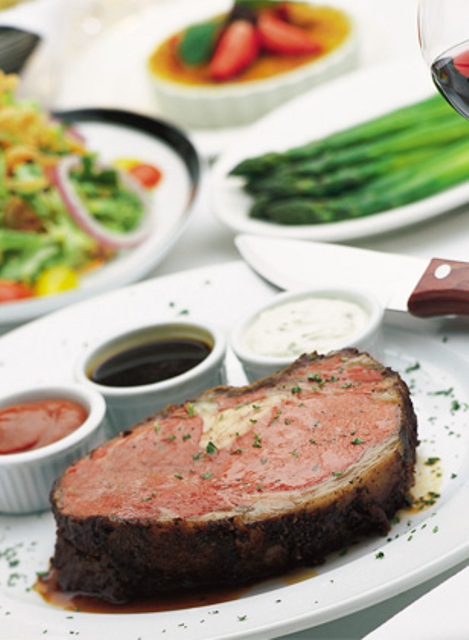 Who doesn't crave a hearty meal to end the weekend and to start the week off on the right foot? Luckily, we're invited to Fleming's this month as they offer a new Sunday night tradition (at an amazing price, too!): The Three-course Prime Rib dinner. During each Sunday in January, for only $29.95 per guest (excluding tip, tax and wine), you can dig into a comfort food prime rib feast. The meal is available at all four Fleming's in Phoenix in Chandler, DC Ranch, Scottsdale and Peoria. www.flemingssteakhouse.com.
First Course
Your choice of salad:
The Wedge, Fleming's or Caesar
Second Course
12 oz. of succulent Prime Rib
Au jus, Creamy Horseradish and Dijon sauces
Served with your choice of one Fleming's side
Third Course
Your choice of dessert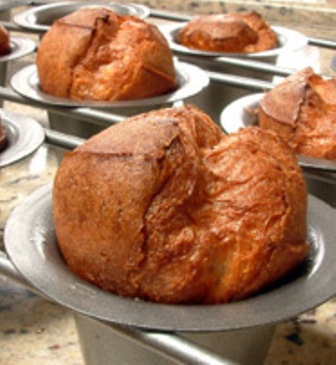 To get your mouth watering before you even dig into your prime rib dinner, here's a delectable popover recipe, from Fleming's:
Russell's Popover Recipe By Executive Chef Russell Skall
Makes 18 popovers
3/4 tsp. fresh chopped rosemary
3/4 tsp. fresh chopped thyme
3/4 tsp. fresh chopped tarragon
21⁄2 cups whole milk
7 eggs (at room temperature)
3 tbsp. melted butter
4 3/4 cups flour
1 tbsp. kosher salt
1 tsp. black pepper
6 tbsp. butter
Instructions for preparation
Remove the rosemary, thyme and tarragon from the stem and rough chop, then place in a blender with 1⁄2 cup of the milk and mix for 15 seconds. Place the blended and remaining milk, eggs, melted butter, flour, salt and pepper in the mixing bowl of a stand mixer with the whip attachment and mix on low for 1 minute. Scrape the side of the bowl with a rubber spatula then whip on medium for 30 seconds. Place in a covered container and refrigerate for 2 hours. The batter should be cold and a little lumpy before cooking.
Instructions for cooking
Note: A popover pan is recommended, although you can use a muffin pan (if using a smaller muffin pan, adjust the amount of batter used). Place 6 oz. of butter in a sauté pan set on medium high heat and melt, browning the butter slightly. Then place 1 tsp. in each cup of the popover pan. Place the pan in a 375° F oven for 4 minutes. Remove the pan from the oven and fill each cup with 4 oz. of the popover batter. Place the pan back into the oven and bake for 25 minutes. Turn down the heat to 325° F and cook for 15 minutes more to dry out the popovers in the center. Pull the popovers from the oven, remove from pan and allow to cool at room temperature.