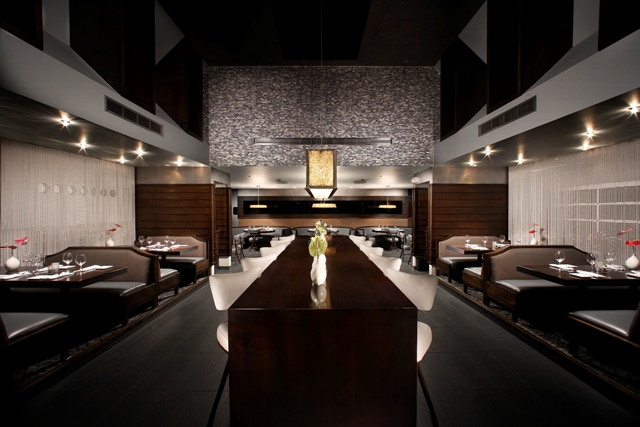 Since most Arizonans don't have much to look forward to during the hot, hot summers, Scottsdale's Avalon has announced new summer specials and menu offerings to help us beat the heat. Drawing inspiration from coastal cities worldwide, Avalon's Executive Chef, Travis Watson, has put together a rousing menu full of seasonal specialties deliberately created to stir up excitement and get mouths watering. The new Avalon menu was particularly inspired to take diners on a flavorful journey through many diverse onshore and offshore regions from right here in our own back yard to other notable rich international locales. Avalon's summer menu breaks away from the traditional, blending textures and deliciously matched flavor combinations with only the freshest of ingredients. From appetizers and entrees to side dishes and desserts, Avalon's newest items are a welcome addition.
Here's what Avalon diners can look forward to this summer:
• Organic Baby Field Greens with ripe strawberries, candied walnuts, goat cheese, and Champagne tangerine vinaigrette
• Polenta Stuffed Jumbo Prawns with spicy fra diavolo, sharp cheddar, and micro greens
• Steamed Prince Edward Isle Mussels with lobster bouillabaisse, smoked white fish, and crusty garlic bread
• Crispy Calamari 'Frittes' with spicy cantaloupe butter, sesame, and Japanese mizzuna
• Shrimp Fettuccini Carbonara with crispy pancetta, English peas, and preserved lemon crema
• Pan Roasted Pork Porterhouse with apple walnut empanada, charred tomato marmalade and melted leeks
• Duck-Duck-'Goose' a crispy breast with cranberry bean cassoulet, gooseberry glaze, and baby artichokes
• Grilled Prime NY Steak with Yukon gold and lardoon gratin and curried cauliflower
• "Provimi Farms" Lamb2a roasted lamb rack & seared lamb T-bone with goat cheese tart and green peppercorn demi
• Avalon Brownie Sundae a warm fudge brownie, toffee popcorn and strawberry gelato
• Strawberry Shortcake strawberry parfait and tangerine pound cake – a twist on a traditional favorite
Avalon guests also have the opportunity to try Avalon's new prix fix summer menu for $29.
Starter:
• French "Sweet Onion" Soup
•Crispy Calamari "Frittes"
•Organic Baby Field Greens
Entrée:
• Shrimp Fettuccini Carbonara
• Crispy Pacific Northwest Salmon Fillett
• Grilled Flat Iron Steak Salad
• Pan Roasted Free Range Chicken Breast
Dessert:
• Avalon's Chocolate Decadence
• Roasted Banana Bread Pudding
• Crème Brulee
• Frozen Tiramisu
The chic Scottsdale restaurant serves brunch, lunch and dinner, as well as a late-night menu and happy hour. Avalon is located at 7707 E. McDowell Rd., Scottsdale, 480.656.0010, http://avalon-scottsdale.com/.