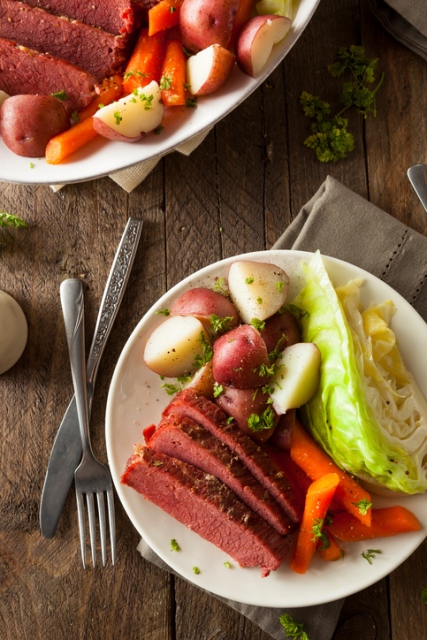 From green bagels to leprechaun cupcakes to corned beef and cabbage tacos, the Valley is getting in the Irish spirit with these St. Patty's Day dining specials.
A few of your favorite Square One Concepts will be offering St. Patty's Day specials. Famous 48 will dish out $6 Irish Car Bombs; Wasted Grain will have $5 Green beer and $6 green tea shots; and Cold Beers & Cheeseburgers will serve $6 Irish Car Bombs and $5 Jameson shots.
On Saturday, March 17, Thirsty Lion Gastropub & Grill will host a head-shaving fundraiser benefiting the St. Baldrick's Foundation to raise money for child cancer patients. Throughout the month of March, all three Thirsty Lion locations will collect money to donate to the foundation. People can donate on their food bill or they can donate online. While people partake in the fundraiser activities, they can enjoy Thirsty Lion's special St. Patty's Day menu, which includes bacon cheddar potato cakes, Scotch eggs or corned beef mac and cheese. The menu is available March 1 to March 18.
Padre Murphy's, will be celebrating their 25th anniversary by hosting their biggest St. Patrick's Day celebration ever. Thousands are expected to attend their 25th annual "St. Patrick's Day Under the Big Top." Doors open, and the green drinks begin flowing, at 10 a.m. along with a traditional corned beef and cabbage feast, corned beef and cabbage sandwich, homemade Bailey's cheese cake and other Irish-themed fare (served 11 a.m. to 11 p.m.), complemented by leprechauns, bagpipes and a full lineup of live music, headlined by Vegas band, Status.
In honor of St. Patrick's Day, Creamistry locations around the Valley are offering 10 percent off all mint-flavored treats including custom ice cream, Creations, NitroShakes and pints (where available), from March 16 to March 18.
Chompie's is celebrating St. Patrick's Day on Saturday, March 1,7 with an all-you-can-eat corned beef and cabbage dinner for $21.99. The deli also tips its hat to the Irish with specialty items like leprechaun cupcakes, green and white cookies, green beer and green bagels.
A slice of corned beef black iron pizza will only cost $.99 on Saturday, March 17, in celebration of St. Patrick's Day at The Phoenix Ale Brewery Central Kitchen. The pizza is made with a signature hand-formed pizza dough, topped with roasted garlic puree and a secret cheese blend. House-made corned beef, dry sauerkraut and a 1000 Island garnish complete this classic. In addition, pints of a Strawberry Blonde Cream Ale Firkin from The Phoenix Ale Brewery will be available for $6.
Kelly's at Southbridge will celebrate St. Patrick's Day all weekend long. From March 16 to March 18, Kelly's will serve $4 green beer and have live entertainment. Friday night, there will be a dueling piano band, Saturday hosts live bands and bagpipes throughout the day and, on Sunday afternoon, there will be a DJ. Kelly's will also serve Irish inspired food including corned beef and Bangers & Mash.
All day long, guests can honor the Irish with food and drink specials (hello, corned beef and cabbage tacos and nachos and $5 Guinness!) at Old Town Gringos, including a huge pub crawl beginning at 10 a.m. Guests can enjoy live music by the Josh Roy Band, DJ Tranzl8r and the Trey Odum Band, watch the Giants versus Oakland game beginning at 4:05 p.m. on multiple screens throughout the restaurant, and enjoy interactive games including beer pong, corn hole and giant Jenga on the huge patio.
From Monday, March 12, through Sunday, March 18, guests can enjoy Miracle Mile's corned beef and cabbage special, which features a generous portion of delicious corned beef, steamed quartered cabbage head and bread and butter, for $12 all week long. Having a St. Patrick's Day party at your home or office? You can even celebrate St. Patrick's Day at the office, with Miracle Mile Deli catering on orders over $100 for a nominal delivery fee.
Original Breakfast House is celebrating St. Patrick's Day with a festive special: Irish Benedict with two poached eggs on top of corned beef hash patties, topped with hollandaise. The dish is available starting at 6:30 a.m. on Saturday, March 17, and Sunday, March 18.
Match Restaurant & Lounge is offering a special St. Patrick's Day match green tea featuring Jameson Irish Whiskey, peach liqueur, lime juice, a splash of Sprite and orange peel garnish for  $10. The cocktail is available 11 a.m. to 10 p.m. on March 17.
Perk Eatery is celebrating with three festive specials: corned beef reuben, corned beef country hash, and Irish cream pancakes.
Camp Social "goes green" from open to close on Saturday, March 17, with food and drink specials all day on Saturday, March 17.  Irish-themed libations include Tullamore Dew shots for $4, Tullamore Dew Mules for $5, and Irish Car Bombs and Guinness Imperial Pints for $6 each. The restaurant will also be offering indulgent Guinness ice cream floats, and corned beef and cabbage and reuben sandwiches. The theme is even taking over Camp Social's popular tableside dessert —with green s'mores.
Sandbar Mexican Grill will host all-day festive food and drink specials, starting at 11 a.m., as well as DJ's until 2 a.m.. The Mexican-inspired Irish specials include $3 green beer, $5 Shamrock-aritas and baby Guinness, and $6 Irish Car Bombs. And don't forget the corned beef and cabbage tacos for $13. Start your St. Patrick's Day celebration early and be one of the first in the Valley to enjoy a celebratory green beer starting at 5 p.m. on Friday, March 16.
Half Moon Sports Grill will offer St. Patrick's Day specials, which will be featured from 11 a.m. to 2 a.m. on March 17, at both its Phoenix and Moon Valley locations. Specials include peppercorn and mustard-rubbed, slow-cooked corned beef served with roasted red potatoes and cabbage for $10.99, green Bud Light drafts for $3.50 and Irish Car Bombs featuring Irish whiskey, Irish cream and Guinness Stout for $7.
Chase's Diner offers homemade corned beef and cabbage starting at 2 p.m. on March 17.