JW Marriott Desert Ridge Resort has just welcomed a new executive chef, Oliver Reschreiter, while Prado, at InterContinential Montelucia Resort & Spa has fresh new menu from Chef de Cuisine Claudio Urciuoli.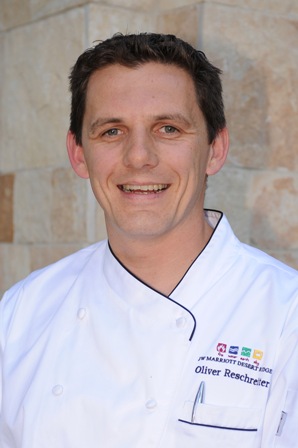 Per the press release, Reschreiter will oversee the resort's restaurant and catering operations as well as the development and training of all associates in the culinary department of Phoenix's JW Marriott Desert Ridge Resort. Reschreiter boasts a remarkable resume: His career began at the Culinary Institute Klessheim in his hometown of Salzburg, Austria at age 15. While at the prestigious Hotel Edelweiss in Zuers, he served as personal chef for the late Princess Diana when she vacationed there. Reschreiter has worked with Marriott luxury properties in Baltimore, Houston, New Orleans, Woodlands, Texas and Palm Desert, Calif., as well as for The JW Marriott and Ritz Carlton Hotel in Beijing, where he was responsible for setting up and organizing the 2008 Beijing Olympics for both hotels. In addition, he has served as head of culinary operations for several hotels in Germany and Austria. During his career, Reschreiter has received such accolades as James Beard House "Best Hotel Chefs in America" in 2006 and 2007, and was a guest chef on Holland America cruises. He's cooked for such celebrities as King Hussein and Queen Noor and Princess Stephanie of Monaco. "Chef Reschreiter's vast experience with Marriott coupled with his international culinary experience and passion for the industry proves to be a superb fit to head our culinary team," said Vipin Khullar, director of food and beverage for JW Marriott Desert Ridge Resort & Spa. 5350 E. Marriott Dr., Phoenix, 480.293.5000, http://www.jwdesertridgeresort.com/.
Meanwhile, at Paradise Valley's Prado, Chef de Cuisine Claudio Urciuoli has adjusted the menu to include many seasonal and local items served either from the plancha, wood-fired grill or a selection of starters, rices and pastas and inspired side dishes. Items from the wood-fired grill include Hawaiian blue prawns, Controne beans and "Gangi Dante" oregano ($13), or the day-boat scallops with Anson mills polenta and romesco ($12) from the plancha. Other new additions to the menu include Rockfish with octopus, fresella and a shellfish broth ($17) and, from the rice and pasta section of the menu, a lasagnette of day boat scallops, petrale sole and cherry bomb peppers ($15). Many traditional menu items have remained but have been updated. "As always, the menu will focus on quality of ingredients and technique," said Urciuoli. "As an active member of the Slow Food movement, there are many seasonal items that we are incorporating into our dishes and using to create new menu items." 4949 E. Lincoln Dr., Paradise Valley, 480.627.3200, http://www.icmontelucia.com/.