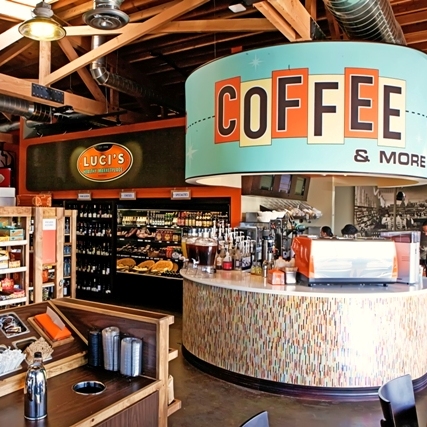 Three months after a fire at Phoenix's beloved Richardson's caused next-door neighbor Luci's Healthy Marketplace to close their doors due to smoke and water damage, they are back and better than ever. (Richardson's is also in the process of re-building.) Luci's Healthy Marketplace, located on the northwest corner of 16th Street and Bethany Home Road in Phoenix, will be celebrating their grand re-opening on Sunday, November 8 from 12 to 4 p.m. with music, food samplings, giveaways and a little something special for uniformed firefighters. Luci's Healthy Marketplace will also be presenting the Phoenix Firefighters with a plaque thanking them for all they did to save Luci's.
Beginning with a retro-modern get-together (Luci's itself is a retro-modern establishment), guests are invited to enjoy an open coffee bar featuring Luci's house coffee, product samplings throughout the market, free milk and cookies for kids, along with raffles and cooking demonstrations in the professional Viking expo kitchen. Aside from the afternoon's events all products (except alcohol), drinks, and grab-n-go meals will be 10 percent off from 4 to 8 p.m. as well. "We are very thankful for the courageous efforts of those firefighters that helped save our building," said Luci Schnitzer, owner of Luci's Healthy Marketplace. "We are proud to be a vital part of this community and be the go-to shop neighborhood corner store, stocked with good healthy products at good price points. We know that our re-opening will be a symbol of hope to many in these tough economic times."
In further recognition for their service in helping save the marketplace, Luci's Healthy Marketplace will offer free house tea, coffee and a bagel for uniformed firefighters for two weeks after the opening. In addition to the Grand Re-Opening events, Luci's Healthy Marketplace, in cooperation with Chef Eric Guerin, will unveil their new daily promotions, including a TV dinner series, a sandwich bar, new soups, wraps and melts, pasta night, their famous omelet bar and many other great daily food specials. 602.773.1339, http://www.lucishealthymarketplace.com/.