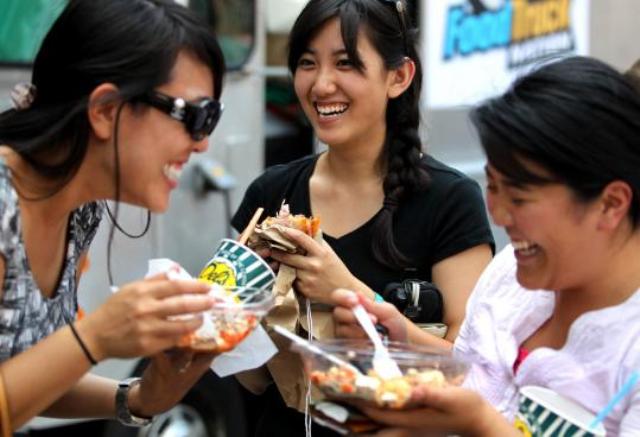 After seeing much success at its 2012 event, Street Eats Food Truck Festival at Salt River Fields will be expanding to two days for its 2013 installment. More than 50 local food trucks are expected at the Scottsdale venue Jan. 12 and 13, from 11 a.m. to 6 p.m., for the Street Eats Food Truck Festival.
In addition to amazing eats from food trucks and five bar concepts where event-goers can enjoy cold drinks, the Street Eats festival will also welcome a few familiar faces in the food world: The Food Network's Iron Chef Geoffrey Zakarian will stop by Sat., Jan. 12; and Travel Channel's "Man vs. Food"'s Adam Richman will join the fest on Sun., Jan 13. Guests will see Chef Zakarian in action on Saturday at 1 p.m. at the Sub-Zero Wolf Cooking Demonstration Stage. Afterwards, Chef Zakarian will conduct a Q & A at 2 p.m. with guests who've purchased a VIP ticket. Sunday at 1 p.m., visitors can get a live Man v. Food experience when Adam Richman takes the stage with local Chef Aaron May of Renegade Tap and Kitchen, Praying Monk and Over Easy. Richman's VIP Q & A occurs Sunday at noon.
Live music is also planned for Street Eats, as well as a kids' zone. General admission is $10; children 12 and under are free. Stark Raving Un-Wine-d Lounge is $35 and includes event admission and access to Un-Wine-d lounge for eight wine-tasting and food pairings. In addition, Salt River Fields will offer its least expensive VIP ticket ever with exclusive access to celebrity chef Q & A session, as well as access to the LTB Concepts VIP Tent for $60. (LTB Restaurants is the team that delivers Renegade Tap and Kitchen, Praying Monk, The Lodge, Over Easy, among others.) VIP tickets include light appetizers, $20 in food tickets, access to the special VIP Tent, six alcoholic drinks and unlimited soda and water. Parking is included in the admission fee. www.saltriverfields.com.