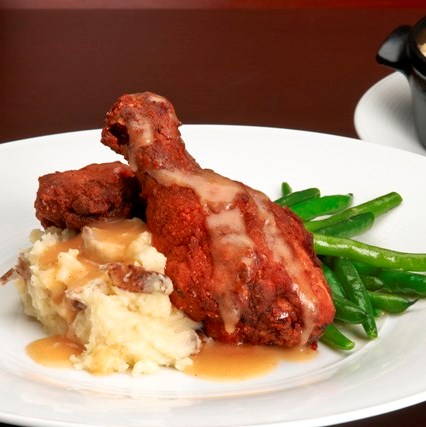 Looking for an all-American repast to kick off your Fourth of July weekend (think fried chicken, biscuits, mashed potatoes and ice cream sundaes)? Phoenix's NOCA is hosting a special menu on Saturday and Sunday to celebrate Independence Day. Take a look:
Course One
Wedge Salad with Romaine, Bacon, Sunburst Tomatoes, Pickled Red Onions, Radishes, Carrots, Thousand Island Dressing
Course Two
Choice of: Flat Iron Steak with Mashed Potatoes, Greens, Melted Onions, Red Wine Demi or NOCA Fried Chicken with Corn on the Cob, Macaroni Salad, Biscuit or Summer Vegetable Risotto or Halibut withSunburst Tomatoes, Arugula, Lucques Olives and Lemon Vinaigrette
Course Three
Make Your Own Ice Cream Sundaes
Supplements-Fried White Prawns with Spicy Cocktail Sauce and Steak Tartar with Capers, Pine nuts, Tomato Confit, Mexican Tarragon, Quail Egg, Brioche
The Independence Day Weekend dinner is $35 on each night. 3118 E. Camelback, Phoenix, 602.956.6622, http://restaurantnoca.com/.