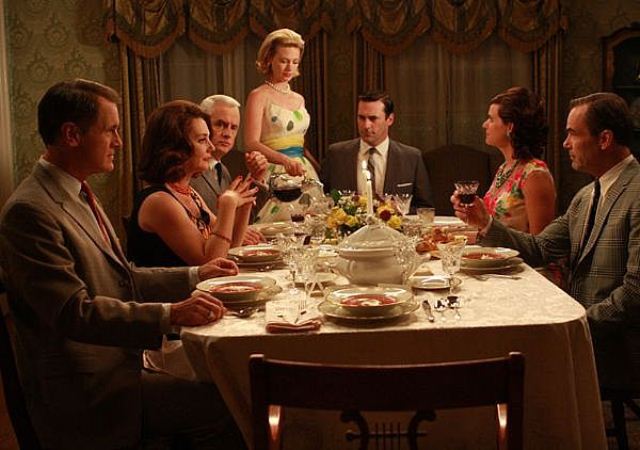 Mad Men-style dinner parties aren't a thing of the past, but…does the thought of hosting a dinner party conjure up images of you sweating it out in the kitchen all evening, while your guests enjoy themselves? What if you could throw a dinner party and enjoy the evening as much as your guests? Well, Kitchen Moxie is bringing back the art of the dinner party, with an updated blueprint for today's lifestyle. With a little organization, preparation and inspiration the perfect dinner party is just a click away. Tracey Doull, of Kitchen Moxie, shares her top 10 tips for planning a dinner party:
1. It's always a good idea to ask guests, especially if you haven't hosted them before, if they have any food allergies or aversions. The last thing you want to do is serve a shrimp cocktail followed by spicy garlic salmon to someone who is allergic to seafood.
2. When planning your menu pick recipes that you can make ahead – especially desserts and side dishes. Have one component to cook on the spot, keeping your time in the kitchen to a minimum. A simple salad or soup works great as a first course and something that is quick-cooking, with side dishes that can be kept warming for the main course, is the way to go.
3. Make sure your dishwasher is empty and that there are no dishes in the sink before your guests arrive. This makes cleaning up as you go much easier. In between courses you can get the dishes in dishwasher and stack the hand-wash-only items off to the side.
4. Prep as much as you can in advance. If you're using an herb to decorate the plate, don't wait until just before serving to wash and snip a piece off. Prep one piece of the herb for each guest putting it in a container in the fridge. When it comes time to plate, just grab it and go.
5. Ask your guests to "dress for dinner." Dressing up may take some effort, but definitely elevates the evening. Have you ever seen a guy who didn't look handsome in a suit or a gal who didn't look great in a dress and heels?
6. If you're hosting two couples or more make a seating plan and put out place name cards. Always seat husbands and wives separately and try to mix it up a little. Half the fun is trying to match people and seat them next to someone they will find interesting and enjoy talking with.
7. Always heat your plates before serving. This will ensure that the food for those you serve first remains hot until everyone is served. You'll be surprised at how well this works.
8. Talk through the evening in advance with your spouse/partner. Let him/her know how they can help. With the two of you working together, you can keep the evening running smoothly and not skip a beat. A great idea is to have your husband/partner clear and help serve, while you get the next course set up in the kitchen.
9. Use the Kitchen Moxie Worksheet as your cheat sheet for the evening. Instead of frantically flipping through different cookbooks, or trying to remember cooking times and temperatures, write down your notes on the worksheet. It will keep you organized and help you remember some of the special touches you had in mind for the evening.
10. Don't worry and enjoy. Most of us are just thrilled to the core to be invited to a dinner party. If something goes wrong or doesn't quite come out the way you planned, relax, take a deep breath and work around it. Your guests will probably never be the wiser.